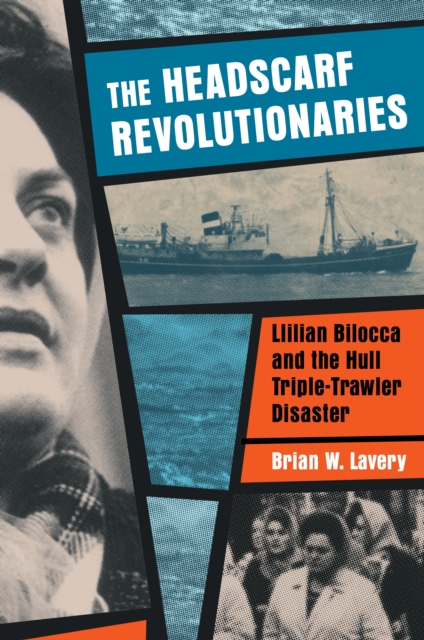 Headscarf Revolutionaries: Lillian Bilocca and the Hull Triple-Trawler Disaster
Paperback / softback
Description
In the harsh seas of 1968, three trawlers from Hull sank in just three weeks. 58 men died. That broke the heart of many in the city. One fishwife put down her filleting knife, picked up some sheets of paper, and stormed into action.
Lilian Bilocca started with a petition, took her battle to the docks at dawn, and then led a raid on Parliament.
Lilian and her team of women changed the Shipping Laws.
In just a few days of action, the lives of thousands of seamen were made much safer.
She became a TV star and an international celebrity.
It is hard to live down fame like that in the back streets of Hull.
It was harder still for the one man who battled the storms as the trawlers sank to be the lone survivor.
The Headscarf Revolutionaries thrills with the dangers of the high seas; inspires with the passion of women who changed their world; and reveals the vivid life inside one of the most vital communities of recent history.
With a foreword by John Prescott. AUTHOR: Brian W. Lavery was born in the East End of Glasgow in 1959, the fourth of six sons of William, a sheet metal worker and Margaret, a shop assistant.
He has been a university drop-out, factory worker, car valeter, market trader, waiter, Customs and Excise officer (very briefly) and is now a journalist, tutor and writer.
After 25 years of various senior roles in national and regional journalism he returned to education.
In December 2013 he wrote and presented Courage and Effect for BBC Radio 4 on their Four Thought series, drawn from the subject matter of this book.
The Oxford Dictionary of National Biography commissioned him to write the entry on Mrs. Lillian Bilocca for its 2013 edition. He has also published short fiction and poetry, and has a PhD in Creative Writing.
Brian runs a community media project in Hull, where he has lived with his wife Kathryn for more than 30 years.
Information
Format:Paperback / softback
Pages:206 pages, 8 pages of b&w photos
Publisher:Barbican Press
Publication Date:19/05/2015
Category:
ISBN:9781909954144
Information
Format:Paperback / softback
Pages:206 pages, 8 pages of b&w photos
Publisher:Barbican Press
Publication Date:19/05/2015
Category:
ISBN:9781909954144