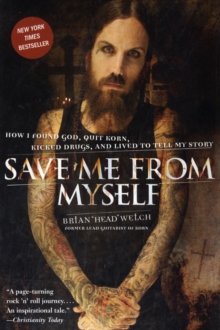 Save Me from Myself : How I Found God, Quit Korn, Kicked Drugs, and Lived to Tell My Story
Paperback
Description
The incredible story of a controversial rock star, his secret addiction to methamphetamines, and his miraculous salvation through Jesus Christ.
Candid and inspiring, Save Me from Myself is a rock 'n' roll journey unlike any other.
Information
Format: Paperback
Pages: 240 pages
Publisher: HarperCollins Publishers Inc
Publication Date: 24/06/2008
Category: Guitar
ISBN: 9780061431647
Free Home Delivery
on all orders
Pick up orders
from local bookshops
Reviews
Showing 1 - 5 of 5 reviews.
Review by tyroeternal
16/06/2015
Save Me From Myself was an interesting read for me. While in one hand the overall story was good, the writing was horrible. About two thirds of the way through I almost stopped because I no longer was enjoying any bit of the reading. Fortunately the story picked up near the end, thus bolstering it's rating to a meager 3.5. An interesting story, unfortunately told through the writing of a guitarist.
Review by jeffsdfw
16/06/2015
As a fan of Korn I decided I would read this book. Head should stick with the guitar and leave writing alone. As a parent, I am glad to see him take the right step in raising his daughter. I too almost had to put the book down, and I apologize for this...........the book became corny...sorry... Good for Head fixing his life...now re-join Korn and do what you do best.
Review by dccab73
16/06/2015
I enjoyed this book very much! It was a very eye opening and informative book on the life of rock stars. I thought I had a decent understanding of the life they live, but this book proved me wrong. You will walk away after reading this book feeling encouraged, inspired, and enlightened. Welch did a great job in detailing his life before, during and after Korn. He gives the reader great insight into what the life of a rock star typically is. I salute Welch for first, having the courage to go against the grain and stand up for his faith in Christ. Secondly, I applaud him for being extremely candid in regards to his life, the things he's done, and mistakes he'd made. Thirdly, for fighting adversity and finding the courage to not go back to the lifestyle that God saved him from even when everyone and everything was screaming at him to do so! Extremely well done! You're an inspiration to all Christians everywhere and a true encouragement to those who are currently fighting the demons that God helped you to overcome. May God lead them to your book. Stay strong and God Bless!
Review by KaitlinM
16/06/2015
I've readthis book twice in the past year. I have a really odd affinity for the band Korn and one weekend I noticed it on my boyfriend's book shelf. I finished it in two days. I had to get my own copy and read it again just so I could highlight the parts that spoke to me. No matter your religion, this book will appeal to you.
Review by revslick
27/08/2015
An honest reflection of Welch's journey from addiction and disbelief to freedom and faith. I enjoyed his honesty both at his wounds and failure but also he's not church broken and breaks down his misunderstanding and steps into faith.favorite quote:"I had a lot of Hell that God needed to squeeze out of me, and believe me, sometimes when the Hell leaves you it screams at God on the way out. There's nothing we can say or do that can separate us from God's love."