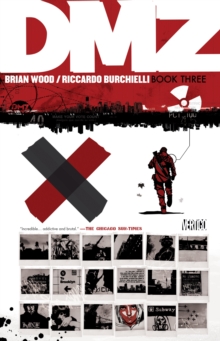 Dmz Book Three
Paperback / softback
Description
In the near future, America's worst nightmare has come true.
With militaryadventurism overseas bogging down the Army and National Guard, the U.S. government mistakenly neglects the very real threat of anti-establishmentmilitias scattered across the 50 states.
Like a sleeping giant, Middle Americarises up and violently pushes its way to the shining seas, coming to astandstill at the line in the sand: Manhattan or, as the world now knows it, theDMZ. In this volume, a new leader rises in the DMZ--but what will that meanfor Matty Roth, a journalist who calls the zone home?
After a near-tragicmisadventure in Staten Island, Matty returns to find Parco Delgado in office asprovisional governor of New York.
Matty's first task under the Delgado regime?Tracking down the source of one of the DMZ's greatest urban legends.
CollectsDMZ #29-44.
Information
Format: Paperback / softback
Pages: 408 pages
Publisher: DC Comics
Publication Date: 28/03/2017
Category: Comics and Graphic Novels
ISBN: 9781401268435
Free Home Delivery
on all orders
Pick up orders
from local bookshops