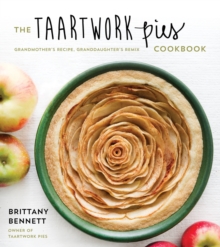 The Taartwork Pies Cookbook : Grandmother'S Recipe, Granddaughter's Remix
Paperback / softback
Description
Brittany's Oma immigrated from Amsterdam to the United States, bringing a recipe for a perfectly crispy, sweet and citrusy pie crust that transforms any pie filling into something special.
Brittany's Oma taught her how to bake with this unique recipe and she has kept it a secret all these years.
Now, with The Taartwork Pies Cookbook, everyone can learn how to make the recipe that has blown so many away with its wonderful flavour.
Not only does Brittany include her Oma's Dutch Apple Taart recipe, but she includes 59 other fillings to complement the dough.
There is also a gluten-free version and a chocolate version of the pie crust to cater to different tastes and dietary restrictions.
Other recipes include Rose Poached Rhubarb Strawberry Pie, Chamomile Peach Pie, Honey Sweet Potato Pie and Beet Red Pie with White Chocolate Whip.
The recipes are organised by season to take advantage of fresh ingredients. Brittany's pies have been featured in Vogue and Bustle and on Stone Fox Bride.
Aside from running a bakery, she also writes for Nylon and Buzzfeed. This book has 60 recipes and 60 photographs.
Information
Format: Paperback / softback
Pages: 144 pages, 60 photos
Publisher: Page Street Publishing Co.
Publication Date: 19/03/2018
Category: Cakes, baking, icing & sugarcraft
ISBN: 9781624145223