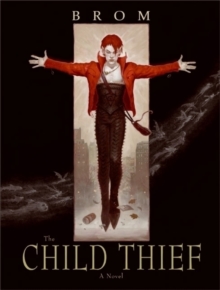 The Child Thief : A Novel
Paperback
Description
The acclaimed artist Brom brilliantly displays his multiple extraordinary talents in The Child Thief-a spellbinding re-imagining of the beloved Peter Pan story that carries readers through the perilous mist separating our world from the realm of Faerie.
As Gregory Maguire did with his New York Times bestselling Wicked novels, Brom takes a classic children's tale and turns it inside-out, painting a Neverland that, like Maguire's Oz, is darker, richer, more complex than innocent world J.M.
Barrie originally conceived. An ingeniously executed literary feat, illustrated with Brom's sumptuous artwork, The Child Thief is contemporary fantasy at its finest-casting Peter Pan, the Lost Boys, even Captain Hook and his crew in a breathtaking new light.
Information
Format: Paperback
Pages: 496 pages
Publisher: HarperCollins Publishers Inc
Publication Date: 17/08/2010
Category: Science fiction
ISBN: 9780061671340
Free Home Delivery
on all orders
Pick up orders
from local bookshops
Reviews
Showing 1 - 5 of 6 reviews.
Previous | Next
Review by whisperingfen
16/06/2015
If you enjoy fantasy art, you might recognize the name Brom. I'm a fan of his style, he did the artwork for the Role-playing game Deadlands, etc. This is a book that was written and illustrated by him, and while the Art is what caught my eye in the store, his description of why he wrote the book was even more intriguing. I had never actually read the original Peter Pan, so I purchased that at the same time and read it to get a feel for the story in its non-Disney form. Peter Pan is a dark character, the Child Thief sets the character of Peter in modern times, in terms of where Peter goes to get children, but also adds Peter into older stories lore. The book is set in Avalon, and there are many references to King Arthur and his court. It's one of the better books that I've read in terms of taking a known character and making it more modern. It's a must read if you enjoy fairy tales as they were meant to be, frightening and thought provoking.
Review by chenninger
16/06/2015
I love Peter. No wait i hate Peter. Ok peter is the man. Though your lead to believe this will be like Peter Pan Brom took the story and twisted it in to his own masterpiece. Instead of poking pirates in the butt with his sword Peter guts drug dealers in the street saving children from certain death. Add some great artwork every few chapters and this adds up to a great adult dark fantasy.
Review by Mintypink
16/06/2015
Since there isn't any room for six stars, I will settle for five. Brom's retelling of the classic story of Peter Pan is beautifully dark, lushly complex and captivating. Peter, the child thief, manipulates children who have been abandoned, neglected or abused to come join him in a place that is safe. What he doesn't tell these children is where exactly this place is, what the journey will be like, and what safe really means. We follow Nick, our protagonist, through this twisted story and the world is revealed to us mostly through his eyes. Occasionally Peter and other characters will lend us their eyes but the shifts in perspective serve as a reminder to reevaluate the concept of good and evil in a story we think we know well.Brom started in illustration and is very well known for breathing life into the covers of many fantasy books as well as games. He writes as if painting, which is to say, beautifully. The rich details of this magic land are portrayed in such sharpness that it is all the more remarkable that they all join together to depict a unified, brilliant and strange world. Everything about this book is excellent, from the writing, the dialogue, the plot, the meaning behind it all, the organization, to really, everything. Everything about this book is excellent.
Review by simplekind
16/06/2015
3/5 stars – loved the book, I would recommend it to my friends.This is a book about many different kids who found themselves lost because of circumstance. Ulfger was left behind during the wars because his father commanded it yet because of it he was seen as a coward and he struggled to prove himself otherwise. Leroy was just angry all the time. Nick blamed his mother for their situation and then blamed Peter but realized it was within himself to fix his situation. And Peter, Peter was a special boy who belonged to both worlds yet neither wanted him. He struggled to find a place in the world of the seelie that ultimately caused him to sacrifice those who followed him.This book was at times hard to read. It jumped from past to present with little transition but the juxtaposition of the dark horrific landscape with the almost childlike prose made for a story that I have never read. It was beautiful and terrifying all at once. The devil children ripped open my heart as they came into this land fighting for freedom and they made me smile as they found acceptance within the arms of Peter.
Review by Bonnie_Ferrante
16/06/2015
This novel is as deliciously wicked as Peter Pan. Never Never Land is beautiful or grotesque, dependeing on your point of view. After all the battles and betrayals, deceits and delights, The Child Thief shows us that we do make the world with our minds. Everyone judges the "enemy" as evil and themselves as good. Nick is the only one who is able to see both sides and tries to enlighten the various camps, with mixed results. A wild, imaginative romp, The Child Thief also carries some important ideas about judging others, miscommunication, debt, friendship, love, and tunnel vision. The illustrations mid-book were as much a delight to the eyes as the words were a delight to the mind.