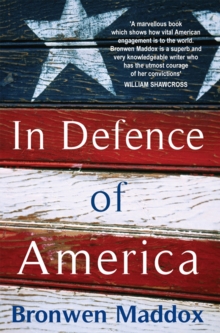 In Defence of America
Paperback / softback
Description
The world has turned against the United States in recent years.
The invasion of Iraq, America's refusal to sign the Kyoto accords, detention without trial in Guantanamo, the spread of American movies and fast food into every corner of the globe - all have contributed to a feeling that the United States is abusing its position as the world's sole superpower.
But there is another side to the story. In this provocative, brilliant book, acclaimed foreign affairs columnist Bronwen Maddox shows how critics of America take the best of it for granted and exaggerate the worst.
She shows how opponents often unfairly equate American mistakes with moral failings, and how the US frequently makes its own case badly, even when it is on strong ground.
At a time when the US is coming under increasing scrutiny in the wake of Barack Obama's promise of change, "In Defence of America" is essential reading for anyone who cares about America's place in the world, and its future.
Information
Format: Paperback / softback
Pages: 208 pages
Publisher: Duckworth Overlook
Publication Date: 05/11/2009
Category: International relations
ISBN: 9780715637920