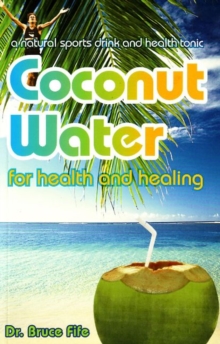 Coconut Water for Health and Healing : A Natural Sports Drink and Health Tonic
Paperback
Information
Format: Paperback
Pages: 224 pages, 46 b/w illus
Publisher: Piccadilly Books,U.S.
Publication Date: 17/05/2007
Category: Popular medicine & health
ISBN: 9780941599665
Free Home Delivery
on all orders
Pick up orders
from local bookshops
Reviews
Showing 1 - 2 of 2 reviews.
Review by IonaS
16/06/2015
Firstly, I would like to explain that coconut water is the liquid found in the coconut, as opposed to coconut milk, which is a manufactured product produced by crushing coconut meat and extracting the juice.Now, with regard to the book, I must admit that I found most of it extremely boring and thus not easily read, due mostly to its scientific content. Though the basic content of the book is absolutely important.It turns out that coconut water is a superfood that saves lives. It can be used intravenously, its composition being "remarkably similar" to that of human blood plasma, thus making it more effective than standard IV saline solutions for rehydration.Dehydration is a serious problem, for example, during cholera epidemics. Oral rehydration with coconut water has proved to be extremely effective, though there is much resistance to its use from the medical profession. Coconut water is superior to all other beverages for rehydration. Water is not enough, since the decisive factor is the electrolyte content of the fluid used, and coconut water contains the necessary electolytes, most importantly, it has a high potassium contentCoconut water is effective against Crohn's disease, strokes, kidney stones, urinary tract infections, edema, cardiovascular disease, atherosclerosis, high blood pressure, etc, etc.I myself have Crohn's disease, but since beginning to consume coconut products, including coconut water, coconut milk, etc, I have had no episodes of any kind connected with this disease,The book includes instructions on how to make coconut water kefir, how to open young coconuts (which, unfortunately, I have never encountered and can't get hold of), how to make coconut milk from fresh and dried coconut, how to do a coconut water fast and also includes a number of excellent coconut water recipes. The latter part of the book proved much more readable than the first.Since reading this book together with another of Fife's books, on coconut oil, I now drink coconut milk and coconut water, use coconut oil exclusively when cooking, and eat the meat of at least two or three coconuts a week.I would absolutely recommend this book for those in bad health or looking to retain their good health, since the information given as to the extreme nutritional value of coconut water is of absolute importance in my view. But you may need a certain portion of persistence in getting through the first part of the book, unless you are extremely motivated.
Review by kimgroome
16/06/2015
Hmm, interesting read. Drink more water. Drink coconut water - even better.