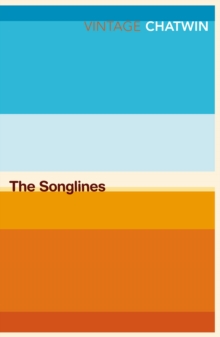 Description
The songlines are the invisible pathways that criss-cross Australia, ancient tracks connecting communities and following ancient boundaries.
Along these lines Aboriginals passed the songs which revealed the creation of the land and the secrets of its past.
In this magical account, Chatwin recalls his travels across the length and breadth of Australia seeking to find the truth about the songs and unravel the mysteries of their stories.
Information
Format: Paperback
Pages: 304 pages
Publisher: Vintage Publishing
Publication Date: 28/11/1998
ISBN: 9780099769910
Other Formats
Hardback from £17.79
EPUB from £5.49
Free Home Delivery
on all orders
Pick up orders
from local bookshops
Reviews
Showing 1 - 5 of 5 reviews.
Review by petulant_seraph
16/06/2015
A favourite. The notes and thoughts half way through at first seem to sit in the wrong book but - The speed at which the book can be read corresponds to Chatwin's own movements. When he moves forward, so does the book. When he sits, waits and reflects, so too the reader.
Review by dylanwolf
16/06/2015
I'll admit to having a bit of a problem with travel writers. Some seem to be unable to avoid adopting a supercilious tone. I'm afraid I would put Chatwin in this category and it makes his books seem a little unsavoury in character; as though somehow he has been taking advantage of the people he meets. I also disliked the unedited notes presented half-way through this book and I don't really feel that I understood a lot more about Songlines after reading it. In defence of the book there were some really interesting and engaging characters in the book and the final songline journey was very touching.
Review by alamosweet
16/06/2015
Ah, now, here is a beautiful piece of work. With a nomad's dusty perspective, Chatwin (or the narrator, if you like) bumps around strange spots, picking fights, writing sparely. Then, with great boldness, he enters into a half-book meditation that includes notebook entries and quotations, enough to spin your head.
Review by Oreillynsf
16/06/2015
Chatwin's intent in Songlines seems to have been to combine a travelogue with a visceral experience of what Aboriginal thought and culture and history are like. It's got all the point A to point B travelogue requisites, but at times the writing feels formless and disjointed. My theory here is that this is Chatwin's reflection of Aboriginal culture. It is, after one, one driven entirely by oral versus written tradition, and perhaps his view was that this gave it a non linear, almost ethereal quality. Anyhow, that's my theory, and I liked its unusual structure and style.Telling the Aboriginal story was and is groundbreaking, moreso so many years ago when it was published. And its experimental -- at times formless -- structure even more so. It's a book you are going to connect with ot not. I liked it but I also didn't get all of it. But then, after reading it, somehow that seemed less important.To me it's like watching modern dance performance. If you want it all to "make sense" you are out of luck. If you are content to just experience it, you're in the right place.
Review by jerryhall
16/06/2015
Good book with an interesting structure and great writing.