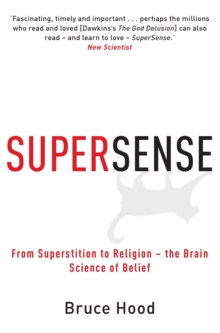 Supersense : From Superstition to Religion - The Brain Science of Belief
Paperback
Description
Why is it that Tony Blair always wore the same pair of shoes when answering Prime Minister's Questions?
That John McEnroe notoriously refused to step on the white lines of a tennis court between points? And that President-elect Barack Obama played a game of basketball the morning of his victory in the Iowa primary, and continued the tradition the day of every following primary?
Superstitious habits are common. Do you ever cross your fingers, knock on wood, avoid walking under ladders, or step around black cats?
Sentimental value often supersedes material worth. If someone offered to replace your childhood teddy bear or wedding ring with a brand new, exact replica, would you do it?
How about GBP20 for trying on a jumper owned by Fred West?
Where do such feelings come from and why do most of us have them?
Humans are born with brains designed to make sense of the world and that need for an explanation can lead to beliefs that go beyond reason.
To be true they would have to be supernatural. With scientific education we learn that such beliefs are irrational but at an intuitive level they can be resistant to reason or lie dormant in otherwise sensible adults.It now seems unlikely that any effort to get rid of supernatural beliefs or superstitious behaviours will be completely successful.
This is not all bad news - such beliefs are a useful glue that binds us together as a society. Combining brilliant insight with witty example Hood weaves a page-turning account of our 'supersense' that navigates a path through brain science, child development, popular culture, mental illness and the paranormal.
After reading SuperSense, you will realize why you are not as reasonable as you might like to think - and why that might be no bad thing.
Information
Format: Paperback
Pages: 336 pages
Publisher: Little, Brown Book Group
Publication Date: 20/09/2005
ISBN: 9781849010306
Free Home Delivery
on all orders
Pick up orders
from local bookshops
Reviews
Showing 1 - 1 of 1 reviews.
Review by ElectricRay
16/06/2015
I heard Bruce Hood talking on Radio 4 and was sufficiently interested in what he had to say to buy his book - after all, a popular science writer engaging on the question of *why* we are impelled to believe in the supernatural, rather than intolerantly railing about how deluded people are that do, seemed like a healthy change. And Hood sets his book up nicely with some queasy dilemmas that will trouble not just the delusional among us: would *you* feel comfortable wearing Fred West's cardigan? I know I wouldn't. Hood's thesis is that, through evolution or fiat, our brains are disposed - wired, if you like - to think this way, and along with the blindingly irrational proclivities that so exercise Richard Dawkins come many useful survival strategies. To throw out the bathwater risks losing the baby, Hood implies, and I think he would say the bath doesn't have a plug in any case: We couldn't change this aspect of our cognitive faculties even if we wanted to. For all its intriguing premise it's a somewhat laboured book which sets its premise out early and then takes an inordinate amount of time to move beyond it, and in the mean time Hood allows himself to be sidetracked too easily, at one point indulging in a lengthy but granted interesting disquisition on the historical antecedents of the Dracula story, to no obvious point. There is much to be mined in the observation that, for all our enlightened rationalist protestations, collectively and individually we still behave bizarrely most of the time - so perhaps there is something to be said for leavening the will to rationality that has been behind much modern economics, biology and sociology - and while this book glances in that direction it never really casts a longing stare there, and ultimately is of passing interest rather than genuine clout.