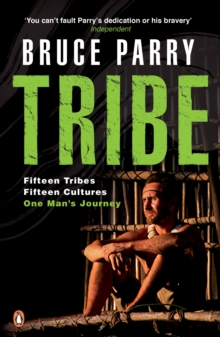 Tribe : Adventures in a Changing World
Paperback
Description
Over several years, Parry spent a month living with fifteen different tribes.
The result is an insight into wildly differing cultures that are vibrant, hospitable and full of spirit.
This book is based on the hugely successful BBC 2 series.
His encounters also throw up some thought-provoking and challenging questions: Is change good?
Should we protect tribes people? And, more importantly, who are we to impose our own cultural sensitivities in our judgement of their customs?
Along the way Parry takes part in some ridiculously dangerous rituals, which include taking mammoth amounts of a potentially lethal hallucinogen, having his penis forced back into his body and eating rats' livers cake.
He also forges new friendships that will last him a lifetime.
Information
Format: Paperback
Pages: 416 pages, 4 x 8 pp colour insets
Publisher: Penguin Books Ltd
Publication Date: 01/07/2008
Category: Social & cultural anthropology
ISBN: 9780141026831
Free Home Delivery
on all orders
Pick up orders
from local bookshops
Reviews
Showing 1 - 1 of 1 reviews.
Review by koeniel
16/06/2015
This book is some sort of companion and 'behind the scene' kind of book for the BBC documentary series Tribe. The tv series itself is very good and interesting. It follows Bruce Parry, an ex Royal Marines, when he visited and immersed himself in the life and cultures of some indigenous people in different parts of the world. In over four years, Bruce lived with fifteen different tribes for a month at a time. His team visited and filmed the Babongo, the Akie, the Suri, the Nyangatom, the Dassanech and the Hamar of Africa, the Nenets in Russia, the Layap in Bhutan, the Adi in the Himalayas, the Darhad in Mongolia, the Penan in Borneo, the Kombai in Papua, the Anuta in the Pacific and the Matis and the Sanema in South America. They aim to portray the life of these tribal communities as is, as the world is changing, as they experience the pressures of modern world and the changing environment, which force them to change and adapt while they still try to cling to their old way of life. According to Bruce the series is also meant to challenge the overly romantic view of tribal communities made popular by old school anthropologists such as Margaret Mead, which is full of stereotypes. Hence in the documentary they try to highlight the similarities between human beings rather than highlighting the exotic differences. And it is these principles that make the series so compelling in its message. We see these people from faraway places and we see us in them. Their cultures might at first strike us as exotic, unique and different, but underneath it, there is the similar need to survive, to procreate, to socialise. As in many encounters between cultures an open mind free of judgement is needed. But it's not always easy. Bruce relates his feelings about these many times. For example in the case of the girl circumcision of the Dassanech people or the female whipping of the Hamar people, both in Africa. By modern standards these are brutal and unnecesary, but as Bruce admitted himself, no matter how much disagreeable they are to him, as he gets immersed in the tribal life it gets difficult to criticise. He feels he has no right to judge. Sometime in the past those ceremonies were crucial in bonding the tribes, and even maybe now. What the series and the book show is also how much these tribal communities are undergoing change. Some will have to change their way of life completely because of environmental changes. For many hunter gatherer tribes both in dry Africa, or high in the mountain of the Himalayas or in wet tropical forest of Borneo it is getting more and more difficult to hunt for animals. To survive they will be forced to start agriculture activity, something very foreign for them. It is really touching to see how these people getting broken hearted from having to live differently from what they're used to, partly because of the greed of modern world. In other tribes, it is the wealth and the glitter of the modern world which entice the young members of the tribal communities to leave their old ways of life, something that is usually scorned by the older members of the tribes. We can't help to see that these old people are right - they have dignities in their own culture but unequipped to survive in modern world sometimes they lose their dignities. Not every tribal communities see changes this way though. It is interesting to see for example the Nenets people in Russia, who despite having lived in modern life and is successful in it prefers to live the way they are herding the deers in the deep and harsh environment of the Arctic. Not all anthropologists are happy about these kind of tv project as it brings unnecessary exposures of outside world to these people. But I think all these anthropological observation is very interesting and educating. It opens our eyes to the lives of our fellow humans in different places. It teaches us to think of other people and culture with an open mind and with respect. And tv is watched by many who might not previously interested by this kind of thing, so this might not be a perfect way to learn and record the disappearing tribal cultures, but it has its advantages in educating the masses.Bruce is amazing in his effort to really experience life as a full member of the tribal communities. It is often very difficult and dangerous, but he just gritted his teeth and did it. He got his nose painfully pierced to be a true member of the Kombai people in Papua and he took hallucinogenic drugs with the Babongo people in Africa and the Sanema in South America. One thing is very interesting, every tribe that he visited accepted him with open arms and many ended up considering him as brother, son, uncle and foremost, as a friend. It shows that as Bruce said, if we approached them with respect and humility, they are always welcoming. The best thing would be of course to watch the series and read the book, but each is a standalone. In the tv series of course you get to see the indigenous people in their life, their colourful costumes, doing their things and talking and laughing, but in the book you get to read more in depth thoughts from Parry. Also, the book has several pictures for each tribe, and the pictures are very interesting. One picture stands out, it shows one of the way the Kombai people in Papua protects their penis, which is by pushing it inside the body until it's almost disappear so only the testicles appear. It's... well... it's ouch!
Also by Bruce Parry