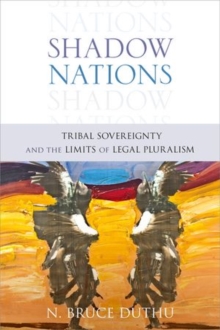 Shadow Nations : Tribal Sovereignty and the Limits of Legal Pluralism
Hardback
Description
American Indian tribes have long been recognized as "domestic, dependent nations" within the United States, with powers of self-government that operate within the tribes' sovereign territories.
Yet over the years, Congress and the Supreme Court have steadily eroded these tribal powers.
In some respects, the erosion of tribal powers reflects the legacy of an imperialist impulse to constrain or eliminate any political power that may compete with the state.
Thesedevelopments have moved the nation away from its early commitments to a legally plural society-in other words, the idea that multiple nations and their legal systems could co-exist peacefully in shared territories. Shadow Nations argues for redirecting the trajectory of tribal-federal relations to better reflect the formative ethos of legal pluralism that operated in the nation's earliest years.
From an ideological standpoint, this means that we must reexamine several long-held commitments.
One is to legal centralism, the view that the nation-state and its institutions are the only legitimate sources of law.
Another is to liberalism, the dominant political philosophy that undergirds ourdemocratic structures and situates the individual, not the group or a collective, as the bedrock moral unit of society.
From a constitutional standpoint, establishing more robust expressions of tribal sovereignty will require that we take seriously the concerns of citizens, tribal and non-tribal alike, who demand thattribal governments operate consistently with basic constitutional values.
From an institutional standpoint, these efforts will require a new, flexible and adaptable institutional architecture that is better suited to accommodating these competing interests. Argued with grace, humanity, and a peerless scholarly eye, Shadow Nations is a clarion call for a true and consequential rethinking of the legal and political relationship between Indigenous tribes and the United States government.
Information
Format: Hardback
Pages: 248 pages
Publisher: Oxford University Press Inc
Publication Date: 29/08/2013
Category: Social & political philosophy
ISBN: 9780199735860
Free Home Delivery
on all orders
Pick up orders
from local bookshops