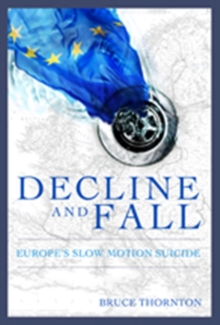 Decline & Fall : Europe's Slow Motion Suicide
Hardback
Description
Once a colossus dominating the globe, Europe today is a doddering convalescent.
Sluggish economic growth, high unemployment, an addiction to expensive social welfare entitlements, a dwindling birth-rate among native Europeans, and most important, an increasing Islamic immigrant population chronically underemployed yet demographically prolific--all point to a future in which Europe will be transformed beyond recognition, a shrinking museum culture riddled with ever-expanding Islamist enclaves.
Decline and Fall tells the story of this decline by focusing on the larger cultural dysfunctions behind the statistics.
The abandonment of the Christian tradition that created the West's most cherished ideals--a radical secularism evident in Europe's indifference to God and church--created a vacuum of belief into which many pseudo-religions have poured.
Scientism, fascism, communism, environmentalism, multiculturalism, sheer hedonism-- all have attempted and failed, sometimes bloodily, to provide Europeans with an alternative to Christianity that can show them what is worth living and dying for. Meanwhile a resurgent Islam, feeding off the economic and cultural marginalization of European Muslims, knows all too well not just what is worth dying for, but what is worth killing for.
Crippled by fashionable self-loathing and fantasies of multicultural inclusiveness, Europeans have met this threat with capitulation instead of strength, appeasement and apologies instead of the demand that immigrants assimilate.
As Decline and Fall shows, Europe's solution to these ills--a larger and more powerful European Union--simply exacerbates the problems, for the EU cannot address the absence of a unifying belief that can spur Europe even to defend itself, let alone to recover its lost grandeur.
As these problems worsen, Europe will face an unappetizing choice between two somber destinies: a violent nationalistic or nativist reaction, or, more likely, a long descent into cultural senescence and slow-motion suicide.
Information
Format: Hardback
Pages: 300 pages
Publisher: Encounter Books,USA
Publication Date: 08/11/2007
Category: Politics & government
ISBN: 9781594032066
Free Home Delivery
on all orders
Pick up orders
from local bookshops