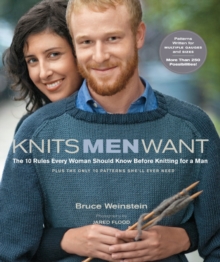 Knits Men Want: 10 Rules Every Woman Should Know
Paperback
Description
For as long as women have been knitting, they have been knitting garments for men (oftentimes with the maddening result that the men don't want to wear what they make).
Bruce Weinstein swears that men aren't intentionally (or unintentionally) running a passive aggressive campaign against the women in their lives. And it's not that men don't want to wear handknits in general.
It's simply a matter of understanding what men really want and then knitting accordingly.
For starters, skip the fancy sitchwork. If the stitch name has the word 'popcorn' or 'butterfly' in it, forget it. And don't bother with yarns that make men sweat (even if it's cashmere). And when it comes to colour, forgo the rainbow and think dark or neutral - except maybe, sometimes, with permission, if you're making socks. "Unwinding Men" is a collection of 10 humorous (and enlightening!) essays and 10 master knitting patterns for men's garments.
These 10 patterns, which include variations and tips for customisation, are all any knitter needs to keep the men in her life happily clad in handknits for their entire lives. Each essay focuses on a fact about men that women need to know in order to understand their guys and be able to knit successfully for them.
For example, Rule number 8 (Men are Babies) explains why men won't wear anything even the least bit itchy. And Rule number 7 (Men Hate Fittings) gives tips for how to create a sweater based on the size and style of one already in his wardrobe.
Each essay is then followed by a timeless pattern, from socks, hats and scarves to an array of sweater styles that men will be happy to receive and will actually wear.
Each pattern in this collection includes a broad range of sizes and most are also written for multiple gauges so they can be knitted in various weights of yarn; this allows the knitter to use the same pattern as a basis for all of the men in her life, from son to husband to grandfather.
Information
Format: Paperback
Pages: 128 pages, 30 colour photographs
Publisher: Stewart, Tabori & Chang Inc
Publication Date: 30/03/2010
Category: Knitting & crochet
ISBN: 9781584798408
Free Home Delivery
on all orders
Pick up orders
from local bookshops
Reviews
Showing 1 - 2 of 2 reviews.
Review by singsastarrynight
16/06/2015
From years of instructing knitters and watching women knit under-appreciated gifts for the men they love, Bruce Weinstein offers 10 rules to guide women in choosing knitting patterns, fibers and colors for their men, along with a perfect pattern to illustrate each rule. After going clothes shopping with my dad, brothers, son, and former husband, who all like clothes, I found myself nodding with recognition and sometimes laughing out loud as I read each of Weinstein's "rules." Here are some great examples:For Rule No. 9, "Men are oblivious," Weinstein offers a reversible-cable scarf, so your lovingly fashioned neckwear will always look good, even if he throws it on backwards. Weinstein also helpfully explains the length and width of scarf most men are willing to accept. (Hint: It's a different length and width than you might want in a scarf, and Weinstein explains why.)Rule No. 1, "Men can't fake it," turns out to mean that men won't pretend to like something they don't, and they won't wear it, either. (Translation for the Y-chromosome-challenged: If he doesn't like cables or wool, DON'T knit him an Alice Starmore Aran sweater, no matter how good it would look on him.)I have a nineteen-year-old son who has kindly accompanied me to a yarn store several times, showed interest in what I was doing and once asked me to knit a scarf for him with yarn he loved in a pattern he picked out; sadly, the scarf has never been worn. This is thoughtfully explained by Rule No. 2: "Men resist change." Weinstein says that most men have their style pretty much set by age 15, and prefer to wear the same things over and over. (If he likes one sweater you knit for him, he may want the second one to be the same pattern, or even the same color.)Of course, Weinstein has his own great stories to illustrate each of these sad, but too-true rules. You'll want the book for his wry humor, the rest of the rules, and the 10 solid, I-can-see-him-actually-wearing-that patterns in the book, which are written in multiple gauges and sizes. Weinstein's rules will even help you pick patterns on your own your man may want to wear. But, with patterns this good, you may never need to pick another one.
Review by akswede
16/06/2015
The patterns are fine, but the text is really painful to read. If you like non-stop clichés like "men hate shopping" and "women like fashion", you'll feel right at home with this. If annoying and groundless gender stereotyping bother you, however, steer clear of this.