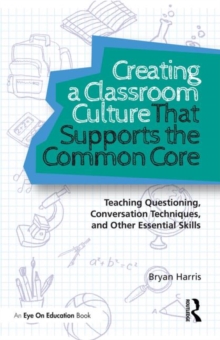 Creating a Classroom Culture That Supports the Common Core : Teaching Questioning, Conversation Techniques, and Other Essential Skills
Paperback / softback
Description
Is your classroom culture conducive to the expectations of the Common Core?
Teaching content is not enough; students need a classroom structure and atmosphere that will help them learn key academic skills.
This practical book will show you how to transform your classroom culture, raise the level of rigor, encourage higher-level questioning and critical thinking, and promote academic discussions.
You will also find out how to adjust your classroom management techniques so that students learn to regulate themselves while completing these higher-level tasks.
Special Features in Each Chapter:Key Idea-a summary of the essential idea that will be addressed in the chapterPractical strategies-a variety of easy-to-implement ideas that you can try right away Connections to the Common Core State Standards-how the skills taught in this book will help students meet the standardsReflection Questions-thoughtful questions that will help teachers apply their learning to their own classrooms.
These questions can be answered independently or used in book study groups. Extend Your Knowledge-creative ideas for extending your knowledge beyond the ideas in this book
Information
Format: Paperback / softback
Pages: 108 pages, Follow The Wellbeing of Children Under Three; 7 Tables, black and white
Publisher: Taylor & Francis Ltd
Publication Date: 04/12/2013
Category: Primary & middle schools
ISBN: 9780415732307