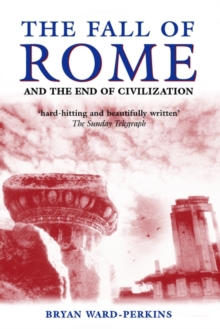 The Fall of Rome : And the End of Civilization
Paperback
Description
Why did Rome fall? Vicious barbarian invasions during the fifth century resulted in the cataclysmic end of the world's most powerful civilization, and a 'dark age' for its conquered peoples. Or did it? The dominant view of this period today is that the 'fall of Rome' was a largely peaceful transition to Germanic rule, and the start of a positive cultural transformation.
Bryan Ward-Perkins encourages every reader to think again by reclaiming the drama and violence of the last days of the Roman world, and reminding us of the very real horrors of barbarian occupation.
Attacking new sources with relish and making use of a range of contemporary archaeological evidence, he looks at both the wider explanations for the disintegration of the Roman world and also the consequences for the lives of everyday Romans, in a world of economic collapse, marauding barbarians, and the rise of a new religious orthodoxy.
He also looks at how and why successive generations have understood this period differently, and why the story is still so significant today.
Information
Format: Paperback
Pages: 256 pages, 40 integrated halftones
Publisher: Oxford University Press
Publication Date: 13/07/2006
Category: European history
ISBN: 9780192807281
Free Home Delivery
on all orders
Pick up orders
from local bookshops
Reviews
Showing 1 - 5 of 6 reviews.
Previous | Next
Review by c.egan
16/06/2015
This book covers, over little space, the end of Rome in all parts of its Empire and the impact of that on all classes of its society. It explores the organization of the Emipre as a whole and sundry details of daily life.'The Fall of Rome' is thoroughly researched and thought through, and presented in a lively way, with humour and outstanding clarity. There are also useful maps, photographs and drawings. Apt for the expert and non-expert alike, and a really good read.The author discusses different theories about the 'Fall of Rome'and the 'Dark Ages' - moral decline combined with ruthless conquest or peaceful transition and transformation? He also shows how they are informed by the spirit of their own time (for instance, racism).The scholar is fair and balanced in his evaluation of theories and evidence, but concludes confidently that the transition was "traumatic" and threw life back to "prehistoric" standards. Two striking examples from post-Roman Britain: For several centuries, no one built in stone any more. No one wrote.If you have liked this book, you might want to read "Catastrophe" by David Keys, exploring a possible reason for the decline of civilization in the 6th century - although Bryan Ward-Perkins does not refer to it at all.Christina Egan
Review by flmcgough
16/06/2015
Another excellent book on the Late Antique world, with a completely different thesis from the ubiquitous Peter Brown. Ward-Perkins gives good, clear, concrete evidence to prove his point: that the transition from Rome to the medieval world was a destructive one. He writes clearly and concisely, and relies on archaeological records to prove his point. Overall, I highly suggest this book for anyone interested in the 5th-6th century Roman world.
Review by kateashenden
16/06/2015
Offers an argument opposed to Peter Brown's view that the Fall of ROme was not so cataclysmic as is popularly thought. Wittily presents a great deal of evidence that it was indeed disastrous, and set bat living standards significantly for 1000 years.
Review by nmele
16/06/2015
This short book interested me not so much for its argument against a revisionist consensus that Rome did not fall as for the evidence Ward-Perkins introduces to argue for the fall of the western Roman Empire as a result of barbarian invasions. He argues from bits of pottery, graffiti and coins that economic complexity dropped drastically in the fifth century of the common era, and along the way portrays the late western Empire as a society of literate, prosperous and sophisticated people.
Review by nandadevi
16/06/2015
The author appears to be quite at ease (and persuasive) arguing against the notion that the end of the Western Roman Empire was a gentle affair. He uses quite specific examples from every part of that Empire, and over a period of hundreds of years, to show that the decline was in many cases violent, and in all cases catastrophic. But the reader's impression of events surrounding the fall of the Western Roman Empire is consequently fragmented. There is no full context, beyond a bare chronology at the end of the book. We are asked to consider an event involving millions of people over the breadth of European and hundreds of years of history and culture coming together. But Ward-Perkins only opens that book at a few pages in order to make his case, and leaves the reader in the dark as to the rest of it. In some senses it's an argument that is addressed to those in the field of Late Roman scholarship, which Ward-Perkins has perhaps brought to the general public at the behest of an editor. But in the end it's neither good scholarship, or good general history. At best it makes the reader wish for more, and in doing that much at least it could be called a stimulating book. It does, however, have this virtue - it's short and it has pictures.