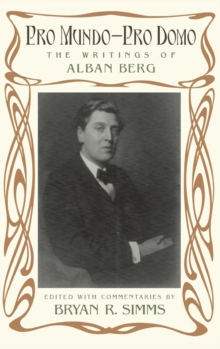 Pro Mundo - Pro Domo : The Writings of Alban Berg
Hardback
Description
Pro Mundo - Pro Domo: The Writings of Alban Berg contains new English translations of the complete writings of the Viennese composer Alban Berg (1885-1935) and extensive commentaries tracing the history of each essay and its connection to musical culture of the early twentieth century. Berg is now recognized as a classic composer of the modern period, best known for his operas Wozzeck and Lulu. Berg, Anton Webern, and their teacher ArnoldSchoenberg constitute the "Second Viennese School" which played a major role in the transformation of serious music as it entered the modern period. Berg was an avid and skillful writer. His essays include analytic studies of compositions by Schoenberg, polemics on music and musicians of his day, and lectures and miscellaneous writings on a variety of topics.
Throughout his considerable and diverse corpus of writings, Berg alternates between two perspectives: Pro Mundo - Pro Domo, meaning roughly "speaking for all - speaking for myself" commenting at one moment on the general state of culture and the world, and the next moment on his ownworks.
In his early years he also tried his hand at fictional writing, using works by Ibsen and Strindberg as models.
This new English edition contains 47 essays, many of which are little known and have not been previously available in English.
Information
Format: Hardback
Pages: 464 pages, 9 halftones, 369 music examples
Publisher: Oxford University Press Inc
Publication Date: 30/01/2014
ISBN: 9780199764068
Free Home Delivery
on all orders
Pick up orders
from local bookshops