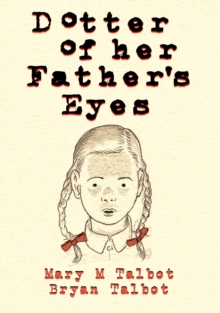 Dotter of Her Father's Eyes
Hardback
Description
Part personal history, part biography, Dotter of Her Father's Eyes contrasts two coming-of-age narratives: that of Lucia, the daughter of James Joyce, and that of author Mary Talbot, daughter of the eminent Joycean scholar James S.
Atherton. Social expectations and gender politics, thwarted ambitions and personal tragedy are played out against two contrasting historical backgrounds, poignantly evoked by the atmospheric visual storytelling of award winning comic artist and graphic novel pioneer Bryan Talbot.
Produced through an intense collaboration seldom seen between writers and artists, Dotter of Her Father's Eyes is intelligent, funny and sad - a fine addition to the evolving genre of graphic memoir.
Information
Format: Hardback
Pages: 96 pages
Publisher: Random House Children's Publishers UK
Publication Date: 01/02/2012
Category: Comics and Graphic Novels
ISBN: 9780224096089
Free Home Delivery
on all orders
Pick up orders
from local bookshops
Reviews
Showing 1 - 5 of 5 reviews.
Review by clfisha
16/06/2015
A sad, amusing and fascinating entwining of two women's biographies. both connected through ages by James Joyce, one his daughter, one (Mary Talbot) a daughter of a pre-eminent Joycean scholar. These two tales, interesting in themselves, play off each other with stark similarities and hopeful deviations. They both have difficult relationships with their fathers, they both wish to have a career, straining against societies inherent sexism and class riddled rules. Only one manages to have happy ending. But if this sounds too bleak and serious it isn't. The art is yet again (it is a Talbot book) lovely and deftly underlines & expands the story. Is therefore all the more interesting when Ann amusingly comments where Bryan (her husband) got it wrong. For this book is also about their relationship and their love. It not only documents it but is a part of it. How can you not want to read an intelligent and beautiful book that has come out of love? The only caveat I have is it seems too short, that they could have been more to say & explored. Maybe however it is just suffering needlessly in comparison to the excellent (and completely different) memoir Fun Home which I just read.Recommended to comic fans, literary lovers, historical fiction fans and anyone interested in feminism.
Review by wyvernfriend
16/06/2015
Mary Talbot grew up in a household haunted by James Joyce. Her father was a Joycean scholar and a man who believed in putting his all into this work, unfortunately this led to tensions between her and him. Something like the tensions between Lucia and her parents. Lucia wanted to be a dancer but her parents couldn't see that this was important to her, that this was essential to her life and her mental health, so when she crumbled, rootless and without any true supports from those around her it was the end of her plans to dance, however Mary was luckier, Bryan gave her a support and a background. Later she learned that her father was well regarded by all his students, but she still had issues with him and the twists of their lives. It's an interesting read. Not completely sure of the links but the footnotes correcting some of the illustrations are quite amusing.
Review by drasvola
16/06/2015
Dotter of Her Father's Eyes is the result of an original idea: crossing the lives of two outstanding women who experience very different times, and having a first-rate artist do the drawing of a graphic narrative scripted by one of the two women involved. The details of the undertaking are an interesting story in themselves, for the reader is treated in this gem of a book to the extraordinary (yet sad) existence of James Joyce's daughter Lucia and that of Mary M. Talbot (née Atherton), the daughter of a Joycean scholar who wrote an essay still in print on the literary allusions in Finnegan's Wake, and a scholar herself who has published widely on language, gender and power. The artist involved in this new example of pictoliterature is none other than Bryan Talbot (among other books author of Alice in Sunderland fame, creator of the character Luther Arkwright and collaborator in the Sandman series), a man who happens to be Mary's husband.This autobiography cum biography meshes neatly Mary's upbringing in a strict paternal environment that appears to provide little concern for her feelings with Lucia's appalling lack of understanding from her parents, and Joyce's failure to offer any meaningful guidance or palliative action in the progressively deterioration of Lucia's mental condition. Both situations offer heart-rending insights into the role of parents in the education of a child and, in general, the influence of social and professional objectives. Gender as a goal development doesn't trail far behind.Mary Talbot's script deals adroitly with the difficult task of setting different chronological periods and viewpoints, adding for good measure valuable information on literary matters such as styles, schools and influential members of the contemporary canon. Together with the realistic approach employed by Bryan Talbot for the graphic presentation, the book is required reading for anyone even mildly interested in the personal side of Joyce and the multifarious facets surrounding him and those who came and continue to come under his mark.
Review by psutto
16/06/2015
Very GoodGraphic Novel biographyMary Talbot tells a story of growing up in 50's Northern England with a Joycean scholar father intertwined with the story of James Joyce's daughter Lucia. This is the story, or two stories, of two women's relationships with their fathers. It is also the story of Mary and Bryan and has a number of asides from Mary where Bryan has drawn things wrong. For Mary the ending is somewhat happier than Lucia's who's unhappy relationship with Samuel Beckett and a failed dance career led to a breakdown. Overall - This is an engaging story artfully blended.
Review by jasonli
16/06/2015
"Dotter of Her Father's Eyes" weaves together the two biographies of author Mary Talbot and esteemed dancer Lucia Joyce. Talbot's father was a famous James Joyce scholar, and Lucia's father was James Joyce, which creates a parallel that draws their two stories together.With only 88 pages, "Dotter of Her Father's Eyes" does not have space to delve into much depth on either of the women's lives. While what is there is interesting enough, and certainly well illustrated, much of the narrative relies on broad strokes that sweep over decades at a time.