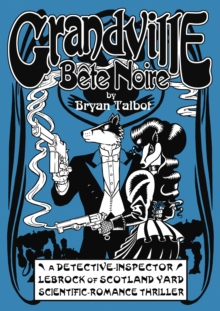 Grandville Bete Noire
Hardback
Description
The Badger is back! At Toad Hall, lair of multibillionaire. Baron Aristotle Krapaud, a cabal of industrialists and fat cats plot the violent overthrow of the French state by the intervention of horribly beweaponed automaton soldiers.
Meanwhile, the brutal murder of a famous Parisian artist, mysteriously stabbed to death in his locked and guarded studio, is subject to the investigations of the tenacious Detective Inspector LeBrock of Scotland Yard, placing him and his faithful adjunct, Detective Sergeant Roderick Ratzi, in pursuit of the mysterious masked assassin stalking the cut-throat commercial world of the Grandville art scene.
Bete Noire signals the welcome return to anthropomorphic steampunk detective fiction of master storyteller and graphic novel pioneer "Bryan Talbot" with the third stand-alone volume of the Eisner and Hugo Award nominated "Grandville" series. As the body count mounts and events spiral exponentially out of control, aided by his brilliant deductive abilities and innate ferocity, LeBrock battles against outrageous odds in this funny, high octane thriller, an adventure shot through with both high art and comic book references, a glorious illegitimate offspring of Sir Arthur Conan Doyle and Ian Fleming - with animals!
Follow the Badger!
Information
Format: Hardback
Pages: 104 pages
Publisher: Vintage Publishing
Publication Date: 01/12/2012
Category: Comics and Graphic Novels
ISBN: 9780224096249
Free Home Delivery
on all orders
Pick up orders
from local bookshops
Reviews
Showing 1 - 1 of 1 reviews.
Review by ljbwell
16/06/2015
This is the 3rd in this steampunk crime graphic novel series featuring anthropomorphic animals. Scotland Yard's DI LeBrock and DS Roderick Ratzi again find themselves in a Paris, France run by Emperor Napoleon XII (Britain lost the Napoleonic War and has become part of the French Empire). There's a cabal of rich industrialists (run out of Toad Hall) plotting to overthrow the government using powerful, deadly automatons. There's also a clash between traditional figurative artists (for whom a friend/lover of LeBrock's models) vs. new wave ones.Talbot's illustrations are luscious and the story is again a good one - rich colours, wonderful details, and plenty of allusions/nods to Sherlock Holmes, Bertie Wooster, Wind in the Willows, and more.Fun & quirky background details include crowd scenes with other comics characters (some I could identify, but am sure I missed others), visual and written take-offs on artists at the time, and more.At the end, Talbot provides some interesting historical context as well. Fantastic continuation of a wonderful series.