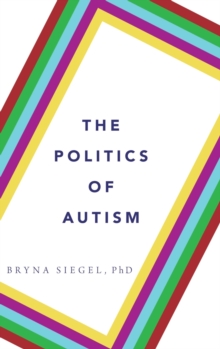 The Politics of Autism
Hardback
Description
In 1994 the American Psychiatric Association published the groundbreaking diagnostic criteria for autism ('Autistic Disorder').
Since then, the reported numbers of people with autism have increased from one in every 2,000 children to one in every 50-a 75% rise in just the last decade.
With big business emerging for everyone including basic researchers, therapists, and educators, while the media in turn promotes sensationalized reports like autism caused by vaccines,or claims that thousands of hours of 1:1 behavior modification programs can cure it, the need for a level playing field has emerged. The Politics of Autism explores new viewpoints on 'old' issues: Is there more autism?
What's wrong with how autism gets diagnosed? Are standard treatments really appropriate given the life course of people with autism?
Why does fear of vaccines persist? Are we effectively allocating autism research dollars if the goal is to help people with autism?
What does this modern fascination with something like autism tell us about our society today?
What does it tell us about what people will believe,and how little it can take to get them to believe something?This book takes on the politics of autism by exposing the sub rosa truths that are often impolitic or seemingly too sensitive to discuss.
All drawn from data-readers will explore unabashed contrarian views on autism epidemiology, autism service provision, autism education, and autism research.
Each chapter will focus both on the controversies themselves, and how these controversies came to be.
Chapters divided to address a different set of issues, data, and social policy recommendations forchanges can be read as a sequence or individual treatments on the selected topics. Each chapter will shine light into arenas of the autism world where Bryna Siegel, who has worked in the autism field for 40 years, has had a ringside seat or sometimes been in the ring herself.
Each chapter will provide a narrative of the different false alarms, false cures, soft-as-quicksand science, or other snake oil that has heralded the surfacing of some aspect of the world of autism into public consciousness.
In addition, readers will find a chapter-by-chapter bibliography with URLs to many engaging references posted on the author's website.
References include popular media/internet resources. Dr. Bryna Siegel's work has focused on the development and learning of children with autism. She analyzes autism as the confluence of expected and atypical development as a way to understanding autism-specific learning disabilities and learning styles. Her interest in the politics of autism grows from years of observing disparities in access to autism diagnosis, autism education, and support for families living with autism. In The Politics of Autism, she explores American positivism,internet disinformation, and focuses on autism as a case example of how societal forces have led to wasteful and ineffective autism education, false hope for cures, pyrrhic battles about vaccines, lack of vision to plan for adults with autism, and costly medical research that helps no one with autism, butexpropriates dollars that could be directed to improving lives. Analysis of each issue concludes with recommendations for social policy changes.
Information
Format: Hardback
Pages: 352 pages, 19
Publisher: Oxford University Press Inc
Publication Date: 17/09/2018
Category: Disability: social aspects
ISBN: 9780199360994
Free Home Delivery
on all orders
Pick up orders
from local bookshops