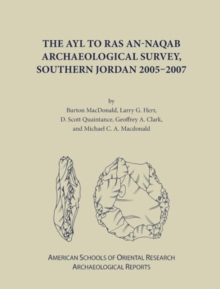 The Ayl to Ras an-Naqab Archaeological Survey, Southern Jordan 2005-2007
Hardback
Description
Two volumes, with DVD. Includes 74 figures, 24 tables and 100+ lithic drawings. Although segments of the ARNAS territory have been investigated for the past one hundred years, a comprehensive and systematic survey of the area had never been undertaken prior to the work of the ARNAS team members. The main goal of the project was to discover, record, and interpret archaeological sites within the survey territory.
Some other objectives included: the discovery, on the basis of the artifactual material identified, the area's settlement patterns from the Lower Paleolithic (ca. 1.4mya) to the end of the Late Islamic period (AD 1918); a study of surface trends to determine, on the basis of the number of sites and the amount of lithics and/or sherds collected, where in the territory "settlements" were concentrated in antiquity; an investigation of the Khatt Shabib or "Shabib's Wall," a low stone wall running in a generally north-south direction to the east, ca. 5-10 km, of the Via Nova Traiana (Trajan's road built between AD 111-114); and to document the rock art, tribal markings, and inscriptional material of the region. ARNAS team members accomplished the objectives of the project by transecting and recording the archaeological remains found in 140 randomly-chosen squares (500 x 500 m), covering around five percent of each of the three topographical zones of the survey territory.
This resulted in a statistically valid sample of the archaeological materials of the area.
In addition, team members recorded 389 archaeological sites encountered within, adjacent to, or on their way to-from the squares. Lithic archaeological periods/cultural-temporal units represented in the survey territory are: Lower Paleolithic; Lower Paleolithic/Middle Paleolithic; Middle Paleolithic; Middle Paleolithic/Upper Paleolithic; Upper Paleolithic; Upper Paleolithic/Epipaleolithic; Epipaleolithic; Pre-Pottery Neolithic; and Chalolithic/Early Bronze I.
As is often the case in the deflated landscapes of Jordan, Middle Paleolithic and Middle/Upper Paleolithic combined samples are the most prevalent lithic analytical units identified in the survey. Ceramic archaeological periods/cultural-temporal units represented in the survey territory are: Chalcolithic-Early Bronze; Iron II; Nabataean; Roman; Byzantine; and Late Islamic.
In addition, sherds, in small numbers and at only a few sites, from the Late Bronze, Iron I, Hellenistic, Early Islamic, and Middle Islamic are also represented. The types of sites recorded included: agriculture villages or hamlets; aqueducts; camps -probably seasonal and pastoralists; caves; cemeteries and individual tombs/graves; check dams and terraces; cisterns; farms; forts; inscriptions; knapping areas; lithic and sherd scatters; milestones; reservoirs; roads; rock art and/or tribal markings; walls; watchtowers; water catchment facilities; and winnowing areas. The accompanying DVD contains Random Square Descriptions and Images, Site Descriptions and Images, a table compiling all debitage, cores, and retouched pieces, and Settlement Pattern Maps for all of the Cultural-Temporal Unites represented at ARNAS sites.
Information
Format: Hardback
Pages: 552 pages
Publisher: American Schools of Oriental Research
Publication Date: 31/12/2012
Category: Archaeology by period / region
ISBN: 9780897570855
Free Home Delivery
on all orders
Pick up orders
from local bookshops
Also in the ASOR Archaeological Reports series | View all