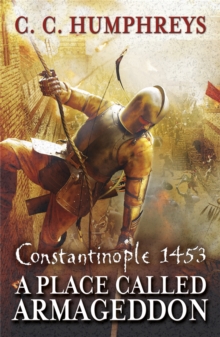 A Place Called Armageddon
Paperback
Description
An epic new novel about one of Western civilisation's most traumatic events - the Fall of Constantinople...Constantinople.
For a thousand years, the city was the heart of the vast Byzantine empire.
Beloved of Greeks. Coveted by Turks. 1453. The empire has shrunk to what lies within its no-longer magnificent walls.
Yet for one man, Constantinople is the stepping stone to destiny.
Mehmet 11, just twenty when he is anointed Sultan, brings an army of one hundred thousand, outnumbering the defenders ten to one, and the most deadly threat the city has ever faced - the largest cannon in the world.
But a city is more than stone, its fate inseparable from its citizens'.
Like Gregoras, mercenary and exile, returning to the hated place he once loved.
Theon, his twin - and betrayer. Sofia, loved by two brothers, forced to choose between them. And Leilah, mystic and assassin, seeking her own destiny in the flames...
Information
Format: Paperback
Pages: 544 pages
Publisher: Orion Publishing Co
Publication Date: 29/03/2012
Category: Historical fiction
ISBN: 9781409120261
Free Home Delivery
on all orders
Pick up orders
from local bookshops
Reviews
Showing 1 - 3 of 3 reviews.
Review by muddyboy
16/06/2015
This book is what it is. If you enjoy historically based fiction with a strong military theme this book is for you. There is a Romulus versus Remus rivalry between brother along with a love triangle to balance out the battle scenes. It is well researched and about an interesting period in Christian - Muslim relations. This book will be well liked by the audience for which it was intended. Will come out later this Summer.
Review by BrokenTeepee
16/06/2015
The battle for Constantinople is one of history's defining moments; the "Rome of the East" falls to "the Turk" and one of the most glorious cathedrals ever built, the Hagia Sophia was looted and turned to a Mosque. So began the reign of the Ottoman Empire over what is now called Istanbul. Mehmet II was a young sultan of 21 when he did what none of his ancestors had been able to do before him - breach the walls of Constantinople and call himself "fatih" or conqueror.This novel, though is a tale of both sides of the conquest; Christian and Muslim and Mr. Humphreys tells both sides well. There is a greater concentration on inside the walls as his hero is Gregoras, a man falsely accused of betrayal. His twin brother Theon, always jealous, always a feeling a bit inadequate next to Gregoras was there to save him from losing more than his nose (yes, you read that correctly) but there is far more to this story of twins and it develops over the course of the book.The book is very well researched and this battle is legendary in history. Mr. Humphreys tries to fit in as many of the unique occurrences as possible and as they say, truth is stranger than fiction. The story moves along at a roaring clip and being one who loves a meaty historical tale I was enthralled from beginning to end. Obviously it being a book of war it is not a pretty book but the gore and violence are kept tamped down compared to other books I have read in the genre.The main characters, both fictional and historical are well drawn and you feel drawn into their world. Even knowing the outcome of the battle I kept feeling as if it might change as I turned the pages. And I was turning them very quickly. Mr. Humphrey had a way of getting inside the heads of his characters so the reader was there too. His descriptions allowed for a true feeling of place which was good - until the battles started and then I was right in the middle of it. I didn't want to be there but I had Gregoras with me and he was a good man to lead the way through a fight.A bit more of sultan Mehmet's story is part of Mr. Humphrey's book Vlad: The Last Confession
Review by sensitivemuse
16/06/2015
This book was so historically rich it was like reading a very entertaining text book. It's nice to read both sides of the battle even though the main character is a Greek man named Gregoras. It switches back and forth between the point of views of various characters from both sides - my personal favorites would be Leilah and Achmed. Although it might seem there's a lot of characters it does focus on a select few so it's easily memorable. There's various story arcs to follow, but what I liked about the book is they all somewhat tie in together and bring the characters together into one seamless plot. It's almost like an intricately woven fabric that tells a rich detailed story. The historical accuracy is pretty good (from what I know of this particular period) and the end authors note was very interesting and helpful. What I enjoyed was the ending, all the characters stories were all tied together and some of their outcomes were unexpected and a complete surprise to me. My favorite ending was what happened to Achmed. That was completely unexpected but a wonderful ending to his story. Some characters are memorable and you get attached to them, others aren't very nice and get a well deserved ending. (Take that Theon! yeah!)The battle scenes are well done and can be easily pictured. There are some various terms that I was not familiar with but there is a helpful glossary at the back of the book. They're well written, and very detailed (so yes, there's a lot of blood) but not to the point where it's overly ridiculous. You can certainly 'feel' what the Greek side was feeling. They certainly did put up a fight and you felt for them.Definitely recommended for historical fiction lovers (those love reading a good battle, or two. Or three). It's worth the read, with rich interesting characters, with a fantastic setting.