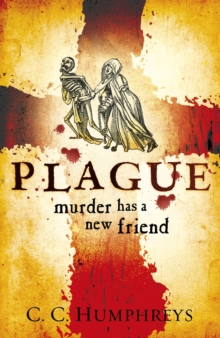 Description
From the acclaimed, bestselling author of The French Executioner, this is an epic and thrilling tale of a serial killer who threatens London's rich and poor during the Great Plague of 1665.
If you enjoy novels by CJ Sansom and SJ Parris, you will love PLAGUE.
London, May 1665. On a dark road outside London, a simple robbery goes horribly wrong - when the gentlemanly highwayman, William Coke, discovers that his intended victims have been brutally slaughtered.
Suspected of the murders, Coke is forced into an uneasy alliance with the man who pursues him - the relentless thief-taker, Pitman.
Together they seek the killer - and uncover a conspiracy that reaches from the glittering, debauched court of King Charles to the worst slum in the city, St Giles in the Fields.
But there's another murderer moving through the slums, the taverns and palaces, slipping under the doorways of the rich.
A mass murderer. Plague.
Information
Format: Hardback
Pages: 384 pages
Publisher: Cornerstone
Publication Date: 17/07/2014
ISBN: 9781780891422
Free Home Delivery
on all orders
Pick up orders
from local bookshops
Reviews
Showing 1 - 1 of 1 reviews.
Review by jan.fleming
27/01/2016
London, 1665. A serial killer stalks his prey, scalpel in his hand and God's vengeance in his heart. Five years after his restoration to the throne, Charles II leads his citizens by example, enjoying every excess. Londoners have slipped the shackles of puritanism and now flock to the cockpits, brothels and, especially, the theatres, where for the first time women are allowed to perform alongside the men.

But not everyone is swept up in the excitement. Some see this liberated age as the new Babylon, and murder victims pile up in the streets, making no distinction in class between a royalist member of parliament and a Cheapside whore. But they have a few things in common: the victims are found with gemstones in their mouths. And they have not just been murdered; they've been . . . sacrificed. Now the plague is returning to the city with full force, attacking indiscriminately . . . and murder has found a new friend.

"With kings and cripples, rats and rotters, highwaymen and loose women, you'd never think a lethal virus could be so much fun."

Fast read, engaging characters, bit of history, bit of mystery and jolly good fun. Hope to meet Captain Coke in future adventures.