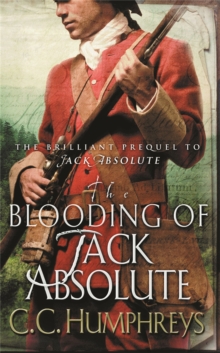 The Blooding of Jack Absolute
Paperback
Description
The brilliant prequel to JACK ABSOLUTE...London 1759 and Jack's life is easy.
A scholar at Westminster School, a master with cricket bat or billiard cue, the leader of a gang of bucks about the Town, he has both a girl he worships and a courtesan teaching him the more basic arts of love.
Yet he plans to give up all carousing, sit the examinations for Cambridge, find a career in any field he chooses.
If he can just stay out of trouble for one night...From the billiard halls and brothels of London to a clash of Empires on the Plains of Abraham, Jack's life is forever altered by the tragedies of that night.
Through duels, battles, frantic escapes and a brutal winter spent in a cave in Canada, the schoolboy will vanish, and a man appear.
But first he must learn to kill. To come of age, Jack Absolute must be blooded.
Information
Format: Paperback
Pages: 400 pages
Publisher: Orion Publishing Co
Publication Date: 16/11/2005
Category: Historical fiction
ISBN: 9780752865270
Free Home Delivery
on all orders
Pick up orders
from local bookshops
Reviews
Showing 1 - 1 of 1 reviews.
Review by vernefan
16/06/2015
The Blooding of Jack Absolute is the middle book of the trilogy and an exciting prequel to book one, that introduces the reader to Jack Absolute's origins, and to how he became Britain's topmost spy during the American Revolutionary War. The first installment simply titled Jack Absolute, introduced the two main characters of this fabulous series, Jack himself, and his partner in crime Ate, a Canadian Mohawk Indian. That introductory story was an exciting adventure tale as they both served under General John Burgoyne spying in the wilderness outside Albany New York, rooting out espionage involving the Illuminati and the Freemasons. This prequel of book two, takes us back to Jack's early days as a young teenager in England. Jack is forever the ladies man who continually finds himself upon a fogged shrouded heath at dawn, with a sword in his hand dueling to defend his honor after a night of female dalliance. Always in trouble in school , the ladies, or with his tyrannical father, Jack eventually is forced to flee London by the skin of his teeth, his father rescuing his endangered backside from death by enrolling him in the army under General Burgoyne.Landing in Quebec after a long sea voyage, Jack grows up quick and is tutored on board by seasoned army mates and the mentorship of the general. Once landed, military skirmishes ensue and Jack finds himself fighting for his life as well as for King and Country. Mastering languages, ciphering and cryptography, fencing and engaging in the art of espionage, Jack soon becomes England's prime spy. After one long and blood-bathed battle, Jack is left alone in the Canadian wilderness, thought dead by his fellow soldiers. He is soon found by a local Indian tribe and learns he is to live there as a slave. Together with another lone captive Indian of the Mohawk tribe, the two unlikely men bind a friendship forever. Jack and Ate escape and the rest of the story is their grueling survival during a harsh Canadian winter, scraping and scratching, hunting and bleeding to survive in the wilderness alone. During their long incarceration hiding in a cave with barely enough food to survive, Jack teaches Ate how to read, and humorous scenes abound as Ate acts out Shakespearean plays and falls in love with book and the written word. This aspect follows along in the first book where we find Ate reading James Fenimore Cooper to Jack as cannon fire explodes around them in the New England countryside. Their eventual emergence from their hellish winter experience finally leads them towards enemies, friends, action scenes, endearing human emotions, ladies in waiting, family feuds, military battles, duels of honor and both men's lives within a very short time turn from coming-of-age to hardened soldiers always ready for the next adventure. A well rounded series filled with all the ingredients a reader would enjoy.