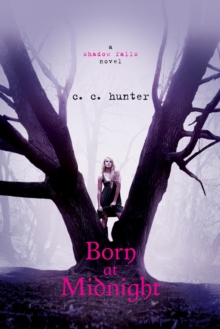 Born at Midnight
Paperback
Description
Kylie Galen has had a lot of crap tossed in her lap.
Her parents are getting a divorce. Her boyfriend broke up with her because she wouldn't put out.
Her grandmother died and now Kylie's acquired a stalker.
Unfortunately, she's the only one who seems to be able to see the stalker. And that gets her sent to a psychologist's sofa. The kooky psychologist gets Kylie sent to Shadow Falls Camp.
Kylie and her parents think it's a camp for troubled teens.
They thought wrong. It's a camp of supernaturals: vampires, werewolves, fairies, witches and shape shifters. And if she believes the camp leader, Kylie is one of them, too.
Information
Format: Paperback
Pages: 416 pages
Publisher: Griffin Publishing
Publication Date: 29/03/2011
Category: Fantasy
ISBN: 9780312624675
Free Home Delivery
on all orders
Pick up orders
from local bookshops
Reviews
Showing 1 - 5 of 66 reviews.
Previous | Next
Review by Malbebe
16/06/2015
Born at Midnight by C.C. Hunter is the epitome of self discovery. For real. The whole book was based on Kylie Galen trying to find out who and what she is. When I got this book I was excited to read it, because I have never read a book that contains all the supernaturals (or should I say supernatural creatures?). At the same time I also had my doubts about whether I would like, or even love, Born at Midnight. Kylie Galen has never really fit into any social groups at her school. Its always been her and her best friend. One night they go to a party. There Kylie sees her newly ex-boyfriend with another girl. Eventually the cops come and Kylie ends up taken away to camp. Only its not like ordinary camps. Oh no, this camp is for supernaturals: mostly shape-shifters, werewolves, vampires, witches, and fairies. The vampire part I admit was the reason why I had my doubt about liking this book. I did end up liking one vampire, Della. Who became friends with Kylie at camp. She was like a good kind of vampire. I also liked Kylie's other friend Miranda who is a witch. She was quirky and funny. Anyways Kylie's life is seemingly going downhill. Her boyfriend cheated on her, her parents are divorcing, she is miles away from her best friend, and she is at a camp full of freaks. She wants to get out of camp as fast as she can. Life gets a little better when her roommates, Miranda and Della as mentioned above, become really good friends to her. Plus she has two amazingly awesome boys pining for her. one of the boys is sweet and caring Derek. The other is Lucas who use to be her neighbor back when they both were in either elementary or middle school. Kylie's life just got a little more complicated by having two cute boys after her affection, and all Kylie wants to know is if she is a normal human being or actually one of the supernaturals. I really found Born at Midnight an okay book but the book series has the potential to be really good. I didn't like how the teens cussed. They cussed so much and then it was irritating when they took a break from cussing. I mean come on you've already been saying those words might as well keep it going instead of going from PG-13 to a censored PG. The book, for me at least, did not pick up until the last 100 pages. The first 200 pages were interesting but more often slow reading. But hey its the first in a series so I'll give it a break. Back in middle school I read The Clique by Lisi Harrison that book was so slow. Only after the first book the rest of the series was so good until I grew out of the series. I love the relationships Kylie forms with Della, Miranda, Derek, and Lucas. The question as to who Kylie will eventually date kept me from not giving up on this book. Plus I wanted to know WHAT KYLIE WAS! Oh, and the shape-shifter Perry added the humor in the book. I found myself laughing whenever he was involved in the book. Can't wait to read the next book, Awake at Dawn, coming out this October. So if you are a fan of supernatural creatures, funny books, mystery, a bit of romance, and self discovery then this book is for you!
Review by alesi1
16/06/2015
C.C. Hunter has introduced us to a fascinating world where a whole lot is going in a GOOD way. She's got Ghost's, Shape Shifters, Witches, Fairies, Vampires and even Werewolf's all living together in a Summer Camp where everyone is learning to cope.Kylei was sent to this summer camp that she had no idea even existed. She is overwhelmed and does not accept that everyone who has been sent to this camp is NOT human. She makes new friends but is drawn to a familiar face that keeps her on edge. This story of Kylei seems to just be the tip of an iceberg, cause' I could already feel that C.C. Hunter has created not just a (how do you say "coming of power) book, but a full blown out adventure that has just begun to brew.I have no clue to where this story line is headed towards. This story really animates my super natural imagination. I love the all the character even the Werewolf "B with an Itch"- as Kylie says it. When does the next Shadow Falls novel come out? I can't wait. I love series'.
Review by DeeDee10
16/06/2015
I loved this book. I loved the idea of a summer camp for kids with supernatural abilities. I can't wait to see where Kylie goes as she journey's through her life. I also can't wait for her to learn more about her real father and her own abilities. The plot was well written and the writing was smooth and flowed with ease. The characters are fresh, new , and interesting. I highly recommend this book to those who love YA fiction and reading.
Review by readingdate
16/06/2015
Born at Midnight is author C.C. Hunter's 2011 YA debut. I was hooked with the concept of this one in which a girl attends a supernatural type summer camp. Born at Midnight is a fun start to a new paranormal YA series. Kylie is having a hard time in her life when she is suddenly sent away to camp for students with special abilities. Vampires, Witches and Faeries and Shapeshifters are all represented at this camp. And how does Kylie fit in? That is part of her journey to find out her special ability and learn to use it. Along the way Kylie makes some friends to help her along. She also finds herself in the middle of a love triangle. There are some funny scenes along the way and some interesting characters to set the stage. In a sea of YA paranormals out there, this is not the most original concept. However, it is a fun book and those interested in mystery, paranormal and romance should find something to enjoy with this story. I'm interested to see where the series is headed with the sequel. Fans of Hex Hall or Paranormalcy should give this book a try.
Review by leirali
16/06/2015
This book was four hundred pages of meandering garbage. The story sucked, the writing sucked, the characters sucked. Everything about it sucked. But I had to read it because I won an advance copy from Library Thing Early Reviews. Kylie is a sixteen-year old girl shipped off to a camp for "troubled teens" after being caught by the police at a party during a drug bust. (But our sweet Kylie wasn't doing drugs or drinking or committing any other bad behavior, of course. Because she's boring.) Turns out that the camp is actually a haven for paranormal teens, like werewolves, vamps, witches, fairies and shape-shifters. Oh, but why oh why is Kylie there? We don't know, and neither does she. Except that she can kinda sorta see ghosts. It's not described very well. But she's in denial about the whole thing anyway, and would much rather have a brain tumor. In fact, I'd rather she have one too. It'd make for a far more interesting read -- or at least a shorter one.Kylie spend about 375 pages in denial that she is "special" -- all while dealing with her parents' lame-o divorce and her off-screen best friend's lame-o pregnancy scare -- and about 10 pages making the great connections that I figured out 300 pages ago. Kylie is also a bit of a tramp, as she kisses no less than three guys over the course of the book, because she doesn't know who she wants to love. (And it's written so poorly that I don't even know who the hell I'm supposed to root for.) But she's a virgin, so that makes it all ok!Then there's tons of cliffhangers and loose ends (both gaping ones and itty-bitty ones) that seem purposely left open so you buy the next book. Because it's a series. And, oh, how I hate that. Red alert, red alert - steer clear of this one.