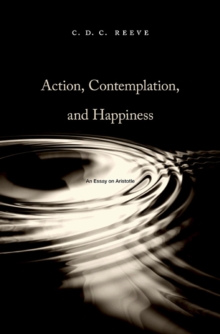 Action, Contemplation, and Happiness : An Essay on Aristotle
Hardback
Description
The notion of practical wisdom is one of Aristotle's greatest inventions.
It has inspired philosophers as diverse as Martin Heidegger, Hans-Georg Gadamer, Elizabeth Anscombe, Michael Thompson, and John McDowell.
Now a leading scholar of ancient philosophy offers a challenge to received accounts of practical wisdom by situating it in the larger context of Aristotle's views on knowledge and reality.
That happiness is the end pursued by practical wisdom is commonly agreed.
What is disputed is whether happiness is to be found in the practical life of political action, in which we exhibit courage, temperance, and other virtues of character, or in the contemplative life, where theoretical wisdom is the essential virtue.
C. D. C. Reeve argues that the dichotomy is bogus, that these lives are in fact parts of a single life, which is the best human one.
In support of this view, he develops innovative accounts of many of the central notions in Aristotle's metaphysics, epistemology, and psychology, including matter and form, scientific knowledge, dialectic, educatedness, perception, understanding, political science, practical truth, deliberation, and deliberate choice.
These accounts are based directly on freshly translated passages from many of Aristotle's writings.
Action, Contemplation, and Happiness is an accessible essay not just on practical wisdom but on Aristotle's philosophy as a whole.
Free Home Delivery
on all orders
Pick up orders
from local bookshops