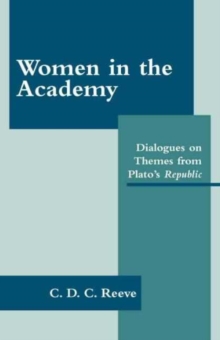 Women in the Academy
Paperback / softback
Description
In the early fourth century B.C., Plato founded his famous Athenian school, the Academy.
Among the students who came to study there were two women, Axiothea of Phlius, who wore men's clothes, and Lasthenia of Mantinea.
In five dialogues, inspired by those of Plato, C. D. C. Reeve imagines these women in conversation with one another, with Plato himself, and with their fellow Academician, Aristotle.
The topics they discuss--women, art, justice, freedom, and the nature of reality--are all drawn from Plato's Republic .
Their lively exchanges, which quickly engage the reader, are at once an exciting and accessible introduction to some of Republic's central themes and an exploration of some of the most controversial questions we face in trying to make sense of our complexly shared lives.
Free Home Delivery
on all orders
Pick up orders
from local bookshops