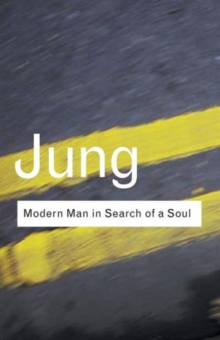 Modern Man in Search of a Soul
Paperback
Description
Modern Man in Search of a Soul is the perfect introduction to the theories and concepts of one of the most original and influential religious thinkers of the twentieth century.
Lively and insightful, it covers all of his most significant themes, including man's need for a God and the mechanics of dream analysis.
One of his most famous books, it perfectly captures the feelings of confusion that many sense today.
Generation X might be a recent concept, but Jung spotted its forerunner over half a century ago.
For anyone seeking meaning in today's world, Modern Man in Search of a Soul is a must.
Information
Format: Paperback
Pages: 264 pages
Publisher: Taylor & Francis Ltd
Publication Date: 17/05/2001
ISBN: 9780415253901
Free Home Delivery
on all orders
Pick up orders
from local bookshops
Reviews
Showing 1 - 1 of 1 reviews.
Review by TheAmpersand
16/06/2015
It's been almost eighty years since Carl Jung wrote "Modern Man in Search of a Soul," so it's not really surprising that some of the book's value is purely historical. Jung spends a lot of time carefully differentiating psychology from medical and arguing for its rigorousness and relevance. Even though a lot of this material will seem familiar to Western readers who've grown up in "psychologized" societies, it's still genuinely heartwarming to witness Jung's enthusiasm for psychic exploration. I get the impression that he saw the unconscious as a genuinely undiscovered territory brimming with wonders yet to be described. He was one of the founders of the science he described, but in "Modern Man," he makes it clear that he couldn't even venture a guess at all that the psyche contains. His sense of wonder is contagious; if nothing else, these essays remind the reader of the vast depth of the self and of the sheer variety of human experience. The sections that I found most of "Modern Man in Search of a Soul" that I found most interesting were contained in the essays "Archaic Man" and "The Spiritual Problem of Modern Man." Part of this book's project seems to be to nudge Western, scientific models of the self from their preeminent position at the very center of modernity, and Jung writes sensitively of the time that he spent with indigenous tribes in sub-Saharan Africa and the American West. These experiences led Jung to conclude that the psyche exists, in a sense, both inside and outside ourselves. In his view, modern man's dependence on natural science to describe the physical world necessitated the development of an unconscious. In earlier eras, religion or an active relationship with the spirit world did the work that we now attribute to our unconscious self. Hysterias and many other common mental disorders, then, might be understood as externalized psychological objects. I found Jung's inversion of the usual psychological schematic – his contention that a person's unconscious is just one psychological object in a world filled with them – to be absolutely thrilling, an enormous idea and one that might change the way I look at myself and others. These essays, which are, as the jacket copy promises, accessible to the lay reader, bear repeated readings. If Jung believed in anything, he believed in the vastness and complexity of the self. With this in mind, it might just take a few decades for me to figure out how some of his ideas apply to my own day-to-day experience.
Also in the Routledge Classics series | View all