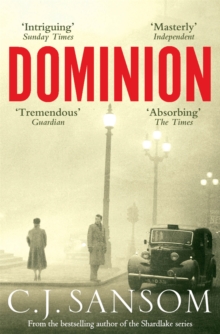 Description
1952. Twelve years have passed since Churchill lost to the appeasers and Britain surrendered to Nazi Germany after Dunkirk.
As the long German war against Russia rages on in the east, the British people find themselves under dark authoritarian rule: the press, radio and television are controlled; the streets patrolled by violent auxiliary police and British Jews face ever greater constraints.
There are terrible rumours too about what is happening in the basement of the German Embassy at Senate House.
Defiance, though, is growing. In Britain, Winston Churchill's Resistance organization is increasingly a thorn in the government's side. And in a Birmingham mental hospital an incarcerated scientist, Frank Muncaster, may hold a secret that could change the balance of the world struggle for ever.
Civil Servant David Fitzgerald, secretly acting as a spy for the Resistance, is given the mission by them to rescue his old friend Frank and get him out of the country. Before long he, together with a disparate group of Resistance activists, will find themselves fugitives in the midst of London's Great Smog; as David's wife Sarah finds herself drawn into a world more terrifying than she ever could have imagined. And hard on their heels is Gestapo Sturmbannfuhrer Gunther Hoth, brilliant, implacable hunter of men ...At once a vivid, haunting reimagining of 1950s Britain, a gripping, humane spy thriller and a poignant love story, with DOMINION C.
J. Sansom once again asserts himself as the master of the historical novel.
Information
Format: Paperback
Pages: 736 pages, maps (colour)
Publisher: Pan Macmillan
Publication Date: 01/09/2013
Category: Espionage & spy thriller
ISBN: 9780330511032
Other Formats
EPUB from £5.58
CD-Audio from £22.75
Free Home Delivery
on all orders
Pick up orders
from local bookshops
Reviews
Showing 1 - 2 of 2 reviews.
Review by BrianHostad
16/06/2015
Interesting alternative history on what might have happened had Britain settled with Hitler in 1940. CJ Sansom sets up a very plausable scenario and is excellent in creating the atmosphere of a weary society slowly slowly following the path dictated by Nazi Germany.The plot is well paced and although the central premise that Muncaster can have such a vital nuclear secret based on a few minutes of conversation with his drunken brother doesn't hold water for me, the reader is never left with time to dwell on this and it doesn't detract from the book.Not quite as good as the Shardlake series, but still recommended.
Review by johnny_merc
16/06/2015
WOW!This is why I love Library Thing - I was thinking about books that I have loved, and remembered reading Fatherland by Robert Harris whilst at university and wondered if there was anymore good alternative history books out there.2 minutes on LT, a member recommended this and it did not disappoint.I took it to pass the time during a long weekend away. I've never been so happy to have a holiday ruined by constant rain. I was engrossed from start to finish. The author has done his research and also let his imagination take flight.If you are interested in WWII history then this is a must!