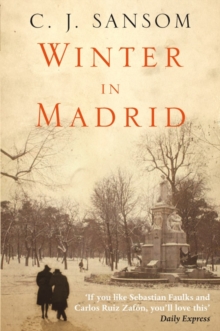 Winter in Madrid
Paperback
Description
1940: The Spanish Civil War is over, and Madrid lies ruined, its people starving, while the Germans continue their relentless march through Europe.
Britain now stands alone while General Franco considers whether to abandon neutrality and enter the war.
Into this uncertain world comes Harry Brett: a traumatised veteran of Dunkirk turned reluctant spy for the British Secret Service.
Sent to gain the confidence of old schoolfriend Sandy Forsyth, now a shady Madrid businessman, Harry finds himself involved in a dangerous game - and surrounded by memories.
Meanwhile Sandy's girlfriend, ex-Red Cross nurse Barbara Clare, is engaged on a secret mission of her own - to find her former lover Bernie Piper, a passionate Communist in the International Brigades, who vanished on the bloody battlefields of the Jarama.
In a vivid and haunting depiction of wartime Spain, Winter in Madrid is an intimate and compelling tale which offers a remarkable sense of history unfolding, and the profound impact of impossible choices. 'Sansom adroitly draws the disparate strands of his ambitious saga together.
His non-pareil evocations of time and place anchor his characters with satisfying precision' Independent
Information
Format: Paperback
Pages: 560 pages
Publisher: Pan Macmillan
Publication Date: 01/10/2006
Category: Historical fiction
ISBN: 9780330411981
Other Formats
Paperback from £7.65
EPUB from £5.59
Free Home Delivery
on all orders
Pick up orders
from local bookshops
Reviews
Showing 1 - 5 of 9 reviews.
Previous | Next
Review by herschelian
16/06/2015
Set in Madrid during the late autumn and winter of 1940, when, in the aftermath of the Spanish Civil War, a post-Dunkirk Britain is desperately trying to keep Franco from joining Nazi Germany and the Axis nations. The three main protagonists are men who were all at the same English public school together several years previously. For different reasons of personal history they have all ended up in Spain and their lives become linked together again by a series of events. Sansom has written a book which is a classic spy thriller with echos of Graham Greene and John le Carre, and also a poignant romantic tale of missed opportunities, and the compromises people make in emotional relationships. All this is bound together with a very impressive dollop of history, which has whet my appetite for more reading about this period. Before reading A Winter in Madrid my knowlege of the Spanish Civil War, Anglo-Spanish relations during WW2 and the role of the Catholic Church in the Franco regime was scanty to non-existant. This one of the best books I have read this year.
Review by minxy_ukusa
16/06/2015
this is such a good book, full of sadness and curiosity; just when you begin to hope for a happy ending all hopes are shot down.
Review by Cloud9
16/06/2015
Could have done with being 100 pages shorter as although the plot is very good and has lots of threads the first half of the book is very slowly paced. There is nothing wrong with a slow paced book but Sansom does not have a writing style that lends itself to this. If you want to read a Mystery/thriller set in Spain Carlos Ruiz Zafon is a beautiful read.
Review by judithann
16/06/2015
A very enjoyable book. I knew very little about war-time Spain (Civil war & WO II) and this book drew me into it. It's a spy story, but without the usual complots (well, there are one or two, at the end), with a bit of a love story, lots of suffering, good people, and bad people. The atmosphere of the time is well-written, whether correct or not, but I could vision the clothes people wore, the town (Madrid) and the people quite easily.
Review by karensaville
16/06/2015
I knew nothing about Spain in the war and felt that I learnt an enormous amount from reading this book. It is about Harry Brett a reluctant spy for the British Secret Service who is sent to Madrid to find his old schoolfriend Sandy Forsyth, now a shady business man and to regain his confidence. Meanwhile Sandy's girlfriend is on her own secret mission to find her former lover Bernie Piper who vanished on the battlefileds of the Jarama. An action-packed thriller that I really enjoyed.