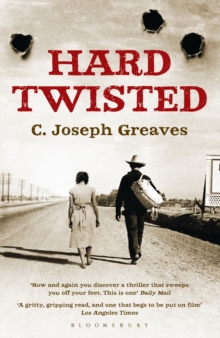 Description
Lucile Garrett is just thirteen when she meets Clint Palmer, a charismatic stranger who will forever change her life. The year is 1934, and as the windblown dust of the Great Depression rakes the Oklahoma plains, Palmer offers Lucile and her father, homeless and hungry, the irresistible promise of a better future. But when they follow Palmer to Texas, Lucile's father mysteriously disappears, launching man and girl on an epic journey through the American Southwest: a spree of violence and murder that culminates in one of the most celebrated criminal trials of the era. Based on a true story, Hard Twisted is a chilling tale of survival and redemption, and a young girl's coming of age in a world as cruel as it is beautiful.
Information
Format: Paperback
Pages: 304 pages
Publisher: Bloomsbury Publishing PLC
Publication Date: 12/09/2013
ISBN: 9781408831113
Free Home Delivery
on all orders
Pick up orders
from local bookshops
Reviews
Showing 1 - 1 of 1 reviews.
Review by slavenrm
16/06/2015
As usual I received this book from GoodReads as part of a giveaway. Also as usual, despite the very kind and generous consideration of getting a free book, I give my candid opinions below.Hard Twisted is a wonderfully dark, gritty and true-to-life portrait of a young girl fallen in with the wrong crowd in the 1930s west. She is taken on a forced trip from town to town, one step ahead of the law until.... the ultimate resolution which I will not be so unkind as to reveal.Greaves' novel combines several wonderful aspects of the historical novel. He is truthful as he draws from real events and paints with a brush which includes much local color and language. This all adds quite nicely to the keen and simmering hatred the reader builds for the antagonist over the book's 300 pages.Our author's writing is, admittedly, at times very dense and I found myself starting over after 50 pages just to begin again and give the book more focused attention. This is not a novel to be read in tiny sessions. Give it two solid hours or don't bother until tomorrow. Greaves' prose is delicious, dense and satisfying but should be savored in large chunks that let you immerse yourself rather than in fits and starts.Pondering to whom to pass this book next, I bumped it quickly to the top of the pile of books I designate as recommended to my fiancee to read next. Its delightful language and sympathetic characters are, I hope, a perfect choice for her literary tastes. Any reader who delights in deep and meaningful writing that takes a bit of effort will enjoy this work.To summarize, Hard Twisted is a fictional account of a difficult time in American history that rings true in a way that few novels of the type do. While sometimes dense it is none the less a deeply satisfying and entertaining example of the genre.