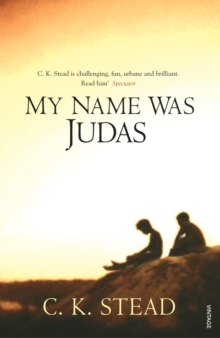 My Name Was Judas
Paperback
Description
We all know the story of Jesus told by Matthew, Mark, Luke and John, but what about the version according to Judas?In this witty, original and teasingly controversial account, some forty years after the death of Jesus, Judas finally tells the story as he remembers it.
Looking back on his childhood and youth from an old age the gospel writers denied him, Judas recalls his friendship with Jesus; their schooling together; their families; the people who would go on to be disciples and followers; their journeys together and their dealings with the powers of Rome and the Temple.
His is a story of friendship and rivalry, of a time of uncertainty and enquiry, a testing of belief, endurance and loyalty.
Information
Format: Paperback
Pages: 256 pages
Publisher: Vintage Publishing
Publication Date: 01/11/2007
ISBN: 9780099501381
Free Home Delivery
on all orders
Pick up orders
from local bookshops
Reviews
Showing 1 - 2 of 2 reviews.
Review by SmithSJ01
16/06/2015
I picked this book up by chance unsure whether I would like it. I did. In fact I thoroughly enjoyed it to the point of 4.5 stars. It's short enough to read in one sitting and I felt this did it more justice. When I had finished it I spent the rest of the evening reflecting on what I knew about Judas and Jesus and it does through different points up for debate. As the book says "we all know the story of Jesus told by Matthew, Mark, Luke and John, but what about the version according to Judas?" You have to imagine that Judas has never died, in fact that was a big part of the story as told by Gospels and Judas is telling his tale in his seventies. It is an interesting tale as well. I found it sad and moving as well as being enriching. I opened the covers with scepticism expecting to not enjoy it and no matter how hard I tried I didn't succeed. It is well written and extremely engrossing. You don't have to be a believer in Jesus to enjoy the novel as everyone of that faith, practising or otherwise, knows his story. Choose it, you might be surprised.
Review by ElectricRay
16/06/2015
This terrific novel purports to give an alternative account of the life of Jesus, as witnessed by his childhood friend Judas who didn't, in this telling, hang himself (or even betray Jesus in the first place) being guilty only of skepticism where his fellow disciples were not. In this telling, after the crucifixion Judas lived to a ripe old age and finally got to tell his story in his dotage. I fear Stead's novel is a couple of millennia late for Judas' global reputation to be restored; all the same, My Name Was Judas is beautifully written, thoroughly researched, and gently (and therefore devastatingly) subversive. Subversive in exactly the same way that Monty Python's Life of Brian was - not because it is blasphemously irreverent (it isn't) nor because it is alleges itself to be true and therefore falsifying of biblical texts (it doesn't), but because the account it gives, even though overtly fictional, is so much more plausible than the traditional story. Where Brian made the "mute" man speak by accidentally treading on his toe, Judas the sceptic explains away most of Jesus' miracles in terms of more prosaic causes - often times nothing more than a bit of hyperbolic hearsay and a distinct - and entirely credible - willing suspension of disbelief from those followers who, with their own agenda, propagated the story. The Jesus described by Stead is a much more believable radical revolutionary than the one of Christian myth. As a result, the reader is constantly obliged to ask himself, "how could I have bought the gospel stories in the first place?" - much the same question, though more deftly phrased, that Richard Dawkins has bludgeoned his readers over the head with in his The God Delusion. Stead's presentation is 100% more stealthy and, consequently, effective. The other remarkable thing about this book is that a New Zealander like Stead should be writing a non-domestic story at all, let alone with such elan. New Zealand literary circles, such as they are (we New Zealanders, on the whole, don't go in for reading in a big way), are usually at pains to assert their domestic cultural credentials, and New Zealand literature which doesn't is viewed by the defensive Kiwi literati as either worthless or a bit too big for its boots. This "cultural cringe" factor leads to mostly worthy but humourless and dull output, which is probably *why* New Zealanders don't read much, come to think of it. Stead is one of New Zealand's foremost living writers, so perhaps he can get away with it, but in any case such an openly outward looking perspective is to be celebrated, especially when done so well. Throughly recommended.