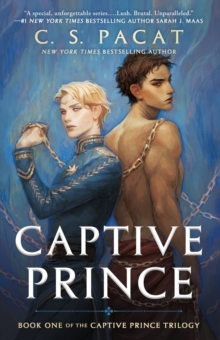 Captive Prince : Book One of the Captive Prince Trilogy
Paperback
Information
Format: Paperback
Pages: 292 pages
Publisher: Penguin Putnam Inc
Publication Date: 07/04/2015
Category: Adult & contemporary romance
ISBN: 9780425274262
Free Home Delivery
on all orders
Pick up orders
from local bookshops
Reviews
Showing 1 - 3 of 3 reviews.
Review by Wooper
16/06/2015
The reviews on amazon led me to expect great things, so I was disappointed at first (reading a few hours before Cut & Run Book 9 came out didn't help), but the story stuck with me. It was intriguing, well-written, has an interesting setting that isn't over-described, and I found that I really wanted to go back and find out what happened in the next book which is even better).The setting and cultural norms in the book will, understandably, be off-putting for some, but it allows the story to be told.Immediately after reading, I would have given the book 3.5/4 stars. It really has grown on me, though. Maybe I'll rate it a full 5 after a re-read. Definitely enjoyable, and I didn't put it down until I was finished.
Review by lycomayflower
10/11/2015
When the brother of Prince Damianos of Akielos makes a successful play for the throne, he gifts Damianos (Damen) to Prince Laurent of Vere as a pleasure slave while putting it out in Akielos that Damen is dead. This move is designed to humiliate Damen and cement ties with Vere. Warrior prince Damen is out of place in hyper-political Vere and must learn to follow the treachery, deceit, and maneuverings of the Vere nobility if he is to keep his true identity secret and cultivate a chance to escape, return to Akielos, and wrest the throne back from his half-brother, Kastor. Laurent has no intention of using Damen as a pleasure slave, as he hates all Akielons for the death on the battlefield of his brother and would not debase himself by seeking pleasure with one (though he's happy to humiliate Damen whenever he can). The story focuses on Damen's attempt to learn the ways of Vere and find a way to escape, the political situation in Vere, and Laurent and Damen's (very slow) journey toward possibly, maybe, respecting one another. The world building is interesting (if sharply focused only on politics and sexual mores, though that is what the story needs), the depiction of political maneuverings is impressive, the characterizations are compelling, and the writing is very good (Pacat sent me to the dictionary four or five times, and every time I came back from looking up a definition going, "Yep, that's exactly the word she needed.") In addition to enjoying the story very much, this book got me thinking about genre a lot. <i>Captive Prince</i> is being sold as romance, and that billing perplexes me somewhat. This is the first of a trilogy and I'm guessing the principles are going to end up in a relationship eventually, but boy howdy, are they not there by the end of this book. (I'm not complaining; I read enough about the book before committing to know that it was going to stretch genre boundaries. But I wonder if some people are going to be annoyed when the book doesn't hit the romance genre story beats on cue.) I could make an argument for shelving this in sci-fi/fantasy or literature/fiction, and I wonder what prompted the decision (by the publisher--it's labeled romance on the back of the book) to call this romance. The explicit sex? It's erotica-level explicit when it's there, but neither the sex nor the not-yet-a-romance is the focus of the story. The suspicion that it would miss its demographic if it were in sci-fi/fantasy? But I bet Jacqueline Carey and Mercedes Lackey fans would be all over this. Same issue in literature/fiction? But surely romance readers wander into the lit/fic aisles a lot? All the "chick lit" is over there, and there must be a fair amount of cross-readership. Romance readers probably find it anyway and then readers who wouldn't normally wander into the romance section could find it too. And Anne Rice's <i>Sleeping Beauty</i> trilogy (probably the closest relative I can think of for Pacat's work, though Pacat's is waaaay better) is shelved in literature/fiction. I've read more romance this year than I probably have in all the rest of my life (partly because I'm trying to diversify my reading in all kinds of ways and partly because I'm getting over myself (are those actually the same reasons?) and partly because I discovered it's fun), so I want to be clear that I'm not saying that there's something wrong with romances or that this book deserves better or something. I just truly wonder how the decision was made. Genre sections are there in bookstores to <strike>make money</strike> help readers find what they're looking for (and I'm sure we've all had days when we wished they'd drill down even further on those sections--someday I'm going to go to the Customer Service desk and ask them to point me to the Exquisitely Written, Strongly Plotted Literary Fiction Set in the Scottish Highlands with Slow-Burn, Character-Driven Romance between Men Interested in Word Play and Popular Music section. Or the Contemporary Gothic Fiction Set in Cornwall in an Old Spooky House with a Spiral Staircase and a Secret Passage and the Story's to Do with Old Books and Twins area. Just to see their faces.), and fair enough. But how often is that impulse working against itself?
Review by SadieSForsythe
02/03/2016
My feed is FULL of this series, so of course I had to follow trend and pick it up. I was pleasantly surprised. I can't say I <i>loved</i> it, but I sure did like it. And that's an accomplishment because slave romances are not my thing. I find them uncomfortable and rarely erotic.<br/><br/> I liked the clash of cultures. I liked that there isn't any sort of insta-love. Heck, these two don't even like each-other. Slow burn is an understatement for the romantic element of this book. I liked the subtitles at play between the other characters. There are some truly heartbreaking moments here, but they aren't all overt and in your face. I appreciated that. It is a cliffhanger, which sucks, but I happily give this two thumbs up. I'll be looking for the sequels.