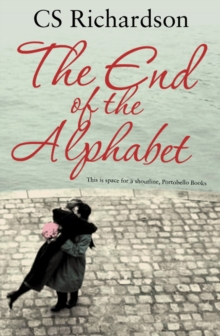 The End of the Alphabet
Paperback
Description
Some time around his 50th birthday, Ambrose Zephyr fails his annual medical check-up.
An illness of inexplicable origin with no known or foreseeable cure is diagnosed and it will kill him within a month.
Give or take a day. In the time that remains, he decides to travel to all the places he has most loved or ever wanted to visit, in strict alphabetical order. And so, Ambrose and his wife Zipper embark upon a strange adventure that takes them further and further away from home and doesn't quite turn out as either of them had expected.
Information
Format: Paperback
Pages: 128 pages
Publisher: Granta Books
Publication Date: 02/03/2009
ISBN: 9781846271113
Free Home Delivery
on all orders
Pick up orders
from local bookshops
Reviews
Showing 1 - 1 of 1 reviews.
Review by helen295
16/06/2015
When Ambrose Zephyr is diagnosed with an unidentified terminal illness and given only a month to live, he decides to make the most of his final days. Accompanied by his wife Zappora Ashkenazi (also known as Zipper) he sets off on a journey round the world, visiting each city on his list in alphabetical order. Will they make it to the end of the alphabet before time runs out for Ambrose?At 128 pages, this is more of a novella than a novel and could easily be read in one sitting. I think the book might have lost its impact had it been any longer; I felt that the shortness of the book and the shortness of the individual chapters reflected the speed at which Ambrose's remaining days were slipping away from him.I loved the alphabetical theme which runs throughout the book from the characters' initials (AZ and ZA) to the chapter titles (each stage of their journey is headed with the corresponding letter of the alphabet). Each place they visit brings back memories and evokes strong emotions for both Ambrose and Zipper. Richardson has given his characters a surprising amount of depth for such a short book; it was interesting to see how they each coped with the news of Ambrose's illness in their own different ways.Although there is quite a lot of dialogue in the book, the author has decided not to use quotation marks which made following the conversations unnecessarily confusing. I also sometimes found it hard to tell whether certain scenes were happening in the present or in a flashback. However, other readers will probably love his writing style.Despite the tragic subject matter, I thought it was a warm, charming story and although I probably would never have chosen to read it if I hadn't won a copy in a competition, it's an impressive debut novel by CS Richardson.
Also by C. S. Richardson