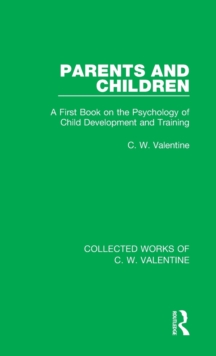 Parents and Children : A First Book on the Psychology of Child Development and Training
Hardback
Description
By his wide influence as author and teacher C.W. Valentine had established himself as a leading authority in this country on child psychology applied to early training. Originally published in 1953, this was a book for parents who need help and advice in bringing up their children and who were puzzled by the obscure and often contradictory assertions of child psychologists. This book deals with the earliest problems - feeding, weaning, sleep, etc.; it then goes on to early discipline, first school difficulties and adolescence.
The great individual differences in children, frequently in the same family, are stressed, so that parents would not be so ready to imagine behaviour to be abnormal.
It also sought to help parents understand themselves in their attitude towards their children. As teachers, social and religious workers, children's welfare officers and nurses, were increasingly brought into touch with parents to discuss with them the upbringing of their children, it was hoped that this book would be of use to those groups as well as to parents themselves.
Information
Format: Hardback
Pages: 228 pages
Publisher: Taylor & Francis Ltd
Publication Date: 27/05/2015
ISBN: 9781138899780
Also in the Collected Works of C.W. Valentine series | View all