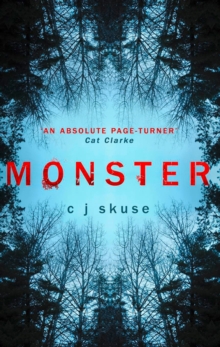 Monster
Paperback / softback
Description
Every girl at Bathory School has heard stories about The Beast.
No one believed they were true. Until Now. 'Grisly, nail-biting fun!' - Lovereading4kids.co.uk At sixteen Nash thought that the fight to become Head Girl of prestigious boarding school Bathory would be the biggest battle she'd face.
Until her brother's disappearance leads to Nash being trapped at the school over Christmas with Bathory's assorted misfits. As a blizzard rages outside, strange things are afoot in the school's hallways, and legends of the mysterious Beast of Bathory - a big cat rumoured to room the moors outside the school - run wild. Yet when the girls' Matron goes missing it's clear that something altogether darker is to blame - and that they'll have to stick together if they hope to survive. Praise for C J Skuse 'Monster is another rollicking adventure ... but you might not want to read the final chapter alone in the house . . . or while you're eating . . . as you find out the truth about the Beast of Bathory.
Great fun.' - Martin Chilton, Telegraph's Best YA Books 2015 'CJ does it again, with a boarding school story packed with tension...Nobody captures the darkness of teenage nightmares quite like CJ Skuse.' - Sophia Bennett, author of The Look 'This book is a skillfully crafted rollercoaster of excitement, fear and shocks'Reading Zone 'The book has one of the best endings I've read.' - 4.5 starsThe Bookbag 'Fiendishly dark, with a sense of humour.
CJ Skuse always inspires deep author envy' - Keren David, YA Book Prize Nominee on Monster 'It's an absolute page-turner!
I gobbled it up in one sitting, and it kept me guessing right till the end.
A deliciously creepy horror story, served up with CJ's trademark humour.' - Cat Clarke. 'It's so good, I'd recommend it to people I don't like' - Kevin Brooks on Pretty Bad Things 'A rip roaring story' - Julia Eccleshare, The Guardian on Rockoholic 'sharp, funny and knowing...' - The Telegraph on Rockoholic 'The tension and the comedy crack along with a heart-warming hilarity that is impossible to resist.'- Amanda Craig, The Times on Dead Romantic
Information
Format:Paperback / softback
Pages:320 pages
Publisher:HarperCollins Publishers
Publication Date:24/09/2015
Category:
ISBN:9781848453890