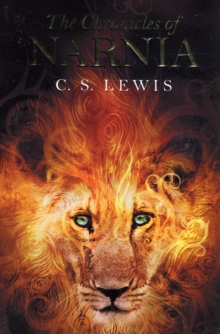 The Complete Chronicles of Narnia
Paperback
Information
Format: Paperback
Pages: 768 pages
Publisher: Zondervan Publishing House
Publication Date: 01/10/2001
Category: Fantasy
ISBN: 9780066238500
Free Home Delivery
on all orders
Pick up orders
from local bookshops
Reviews
Showing 1 - 5 of 47 reviews.
Previous | Next
Review by drewandlori
16/06/2015
My very favorite books when I was a kid, these are still great stories.
Review by colombe
16/06/2015
Amazing series! Powerful symbolism and great writing. Big favorite!
Review by Rebekah84
16/06/2015
I will admit I haven't finished the series yet. Some of the books can get pretty boring and through which are a struggle to keep awake. With that said, half of the books are AMAZING! (Magician's Nephew, Lion/Witch/Wardrode, Horse and His Boy...)... (If I could give those specific books 5 stars, I would). I've been told Last Battle is good too, but I havne't gotten that far yet. I'm trying to stay awake through Dawn Treader right now (which has it's good and bad moments). Hopefully I'll remember to edit this sonce I've finished.
Review by WittyreaderLI
16/06/2015
I read the Lion, The Witch and the Wardrobe as a child, and I decided that I wanted to buy and read the Complete Chronicles. I really enjoyed the first book, the Magician's Nephew. The story was interesting because it set the premise for the rest of the series. After re-reading the Lion, The WItch and the Wardrobe, I was brought back to childhood memories of the older movies, as well as a wonderful tale. However, after starting The Horse and his Boy, I became extremely bored. I really could not get into these characters. Despite having appearences by Susan and Edmond early on, I felt like they were nothing like the characters we met in their first book. The main character, Shasta was pretty dull. I have heard that the stories get better as they go on, but I felt like I needed a break from this series, so I've stopped reading for now. Hopefully it will be something I'll want to pick up in the future.
Review by alaskabookworm
16/06/2015
I waited 36 years to read "The Chronicles of Narnia". Reading them for the first time as an adult approaching middle age has been a profoundly moving experience. Lewis was a mystic, influenced by the brilliant G. K. Chesterton, who similarly believed in a literal and existent "fairyland" barely hidden beneath the surface of what is common. With Lewis, I journeyed back to a place inside myself I thought I'd lost forever. Narnia became very real to me. After reading the last page of "The Last Battle" last night, I sobbed uncontrollably for 1/2 an hour, and can only describe the feeling as being something between joy and incredible yearning. This series is much more than a mere collection stories.
Also in the Chronicles of Narnia S. series | View all