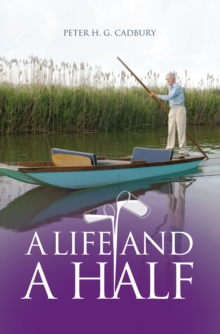 A Life and a Half
Paperback / softback
Description
Cadbury's famous advertisement portrayed an impossibly large amount of creamy milk being poured into a chocolate bar.
Peter Cadbury, a direct descendant of the founder, shows in A Life and a Half how he has achieved something similar with his own extraordinarily full life.
After surviving a flight in a blazing plane at 14 and narrowly escaping being the youngest MP at 24, Peter moved from law into banking.
He recounts the personal dramas of advising on high profile takeovers, being a pioneer of crossborder mergers and working in over 20 countries, especially South Africa.
Peter was at the centre of the Westland crisis which nearly saw the fall of the Thatcher Government, and tells how he might have prevented it.
He recounts travelling to over 100 countries, including taking a Land Rover to India and back, and being the first tourist to Albania since King Zog.
He recalls historic artistic occasions, building up his important collection of Norwich School landscapes and arranging the wedding of his daughter to a clan chieftain.
Information
Format: Paperback / softback
Pages: 386 pages
Publisher: Memoirs Publishing
Publication Date: 28/09/2015
Category: Autobiography: general
ISBN: 9781861514035