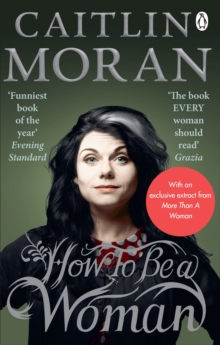 How to be a Woman
Paperback
Description
Selected by Emma Watson for her feminist book club `Our Shared Shelf'It's a good time to be a woman: we have the vote and the Pill, and we haven't been burnt as witches since 1727.
However, a few nagging questions do remain... Why are we supposed to get Brazilians? Should we use Botox? Do men secretly hate us? And why does everyone ask you when you're going to have a baby?
Part memoir, part rant, Caitlin answers the questions that every modern woman is asking.
Information
Format: Paperback
Pages: 320 pages
Publisher: Ebury Publishing
Publication Date: 01/03/2012
Category: Memoirs
ISBN: 9780091940744
Free Home Delivery
on all orders
Pick up orders
from local bookshops
Reviews
Showing 1 - 4 of 4 reviews.
Review by phoebesmum
16/06/2015
Modern feminist Moran takes on modern feminism with wit, grace, vast amounts of booze, and a whole lot of sweariness, interweaving the earlier chapters with memories of her own overweight, friendless, impoverished childhood. (I am now incapable of imagining Daddy Moran as anything but the dad in 'Shameless', and in the wholly improbable event that I should ever meet him, I shall have to apologise.)Most of what Moran has to say is really just simple commonsense, and I was nodding along with her quite happily for a good two-thirds of the book. Then she got started on the joys of Motherhood, and I lost interest. And then after that there was a nasty little outburst of ageism, which nearly lost me altogether. However, nobody's perfect, and by the time Moran is 58 (which, she says, she reckons is 'old') she will probably have reconsidered her position.For the most part: funny, convincing, clever, and very easy to read – perfect for hospital waiting rooms and long bus journeys. That may not be what the author wanted to hear, but it's what she's getting from me.
Review by Mercury57
16/06/2015
This got huge amounts of publicity when it was published - Moran was hailed as the successor to Germaine Greer. A comparison which is totally misplaced. Greer is an intellectual who knows how to support her arguments however provocative. Moran is a pale imitation. I couldn't read beyond the first 20 pages.
Review by Panopticon2
16/06/2015
A touch disappointing, this. So many breathless reviews and so much hype...but I think the problem for me is that Moran gets painted as some sort of Everywoman, and I don't relate to much of her life experience. A pleasant-enough diversion, but hardly life-changing stuff.
Review by CareBear36
10/11/2015
There are things I really liked about this book and I things that I really didn't like about it.For starters, I loved the mashup of memoir with feminist lessons. It made the text easy to read while still getting across messages and making the reader think. At times the book was hilarious and I really liked much of Moran's humor. Moran's book is referred to as "The British version of Tina Fey's Bossypants," which I find very fitting, especially given how much both of these women rely on sarcasm, which can be a little hard to recognize in text format, but can also be very entertaining. I love how Moran puts herself out there, sharing very personal details about her life (Chapter 15) and is unapologetic about her decisions. While I did not agree with all of Moran's points (burqas are bad), the text is relatable for many women (first period, what to call private parts, first love). The main thing I did not like about this book was Moran's choice of language. There were a few problems with it. First off, she uses offensive words such as "retard" and "tranny" and overall is not very inclusive in her ideas of feminism (making generalizations about gay people, stereotyping transgender people, omitting pretty much any people of color). She also uses shameful language regarding strippers and stereotypes them. Many people come out as the butt of Moran's joke. And while Moran also makes fun of herself, it's one thing to make jokes at one's own expense and a completely different thing to use a person's "other" status to stereotype and overgeneralize them. I agree with Moran's updated feminism focusing on equality for all and why it's important, but again, her language seemed to get in the way. This is summed up in her statement, "I realized that what I really want to be... is a human... One of "the Guys" (301). Here "The Guys" is synonymous with "human", but shouldn't the norm be human, rather than a word that refers to males?Moran's book shows a representation of white feminism and ignores sexuality, race, socioeconomic status, and other intersections for the most part. I think a lot of Moran's messages are still valid and important, but would have liked to see more intersectionality and acceptance in her work. A funny book with important lessons, but still greatly lacking.