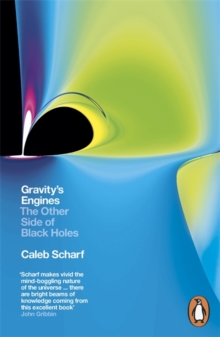 Gravity's Engines : The Other Side of Black Holes
Paperback / softback
Description
A New Scientist Top Ten Books of 2012. We have long understood black holes to be where the universe as we know it comes to an end - huge bodies so destructive that not even light can escape their deadly power.
In Gravity's Engines, however, renowned astrophysicist Caleb Scharf reveals an entirely new, and crucially important, side to these mysterious chasms. The latest research has located super-sized black holes, often billions of times more massive than the Sun, which have the power to rearrange the cosmos and control entire galaxies of stars.
Engaging with our deepest questions about our origins, Scharf shows how, without these black holes, life in the universe could not exist. 'This book should be on your shelf if you want to know why our Universe is the way it is.' Focus'Caleb Scharf is a lively and eloquent writer as well as a fine scientist.
Gravity's Engines presents topics at the frontiers of our understanding which have not hitherto been presented so clearly to a general readership.' Sir Martin Rees'Using rich language and a brilliant command of metaphor, Scharf weaves a wonderfully detailed tapestry of what modern astronomy is all about.' Nature 'Scharf serves as an appealing tour guide to the eerie, infinite corridors of the cosmos in which we reside.' Prospect
Information
Format: Paperback / softback
Pages: 272 pages
Publisher: Penguin Books Ltd
Publication Date: 13/12/2004
Category: Cosmology & the universe
ISBN: 9780241957356
Free Home Delivery
on all orders
Pick up orders
from local bookshops