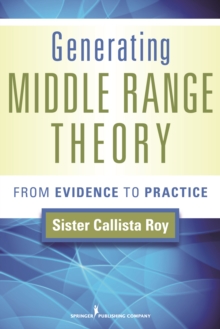 Generating Middle Range Theory : From Evidence to Practice
Paperback / softback
Description
Callista Roy, one of nursing's leading theorists and creator of the widely used Roy Adaptation Model of Nursing, presents a unique pathway for developing knowledge for nursing practice.
Her book distils the most relevant information from 200 published research studies to provide a roadmap for progressing from nursing research to middle-range theory to optimum practice regimens.
It is based on tested knowledge, clear evidence, and refined caring perspectives. Step by step, the text identifies and critiques research suited for developing cumulative knowledge for practice and uses the research to develop middle-range theories that apply across all health care settings.
It then presents the evidence for practice for each middle range theory, refocuses EBP within nursing knowledge and within defined levels of readiness for practice, and recommends changes for practice based on evidence.
Grounded in the Roy Adaptation Model of Nursing, the book provides a single conceptual basis for synthesis of research into middle range theories for use across all patient populations.
It clarifies ways to select research from one conceptual basis to build middle-range theories, how to classify evidence for practice by levels of readiness, and recommend research-based changes in practice.
The text includes quantitative and qualitative research designs and offers instruments to measure major concepts for implementation.
Also included are plentiful examples, tables that display values across studies, definitions of major terms and concepts, and diagrams of concepts.
Supplementing the text is a faculty guide for using the text to teach critical thinking at multiple graduate levels and videos illuminating each section of the book. Key Features:Explains clearly how middle-range theories grow from researchDesigned for implementation in practiceUses Roy's five core ""adaptation"" contexts as organising themes: coping, changing life events, loss, chronic health condition, and traumatic eventsConstitutes a seminal work from a pre-eminent nursing theorist and educatorIncludes faculty guide and videos elucidating each section of the book
Information
Format: Paperback / softback
Pages: 402 pages, 10 illustrations
Publisher: Springer Publishing Co Inc
Publication Date: 30/09/2013
Category: Intensive care nursing
ISBN: 9780826110091