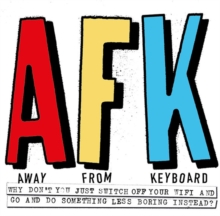 AFK. Away from the Keyboard : Adventures in Creativity
Paperback / softback
Description
Every parent knows that love/hate relationship they have with their 8-13 year old's screen time.
How much is too much? We want them to be tech-literate, but we also feel guilty when they are glued to a screen.
Who has time to organise creative activities for their kids these days?
What if you could provide them with instant, ready made creative mini-projects to get them away from the console?
Enter AFK. Give them a reason to be away from the keyboard. AFK is packed full of fun creative ideas and activities.
Design your own T-Shirt. Create your own mini comic. 7 day drawing challenge. Design your own sneakers. Collaging, doodling, interviewing, story writing, listing, designing, colouring and sketching.
Plus much much more. AFK provides 144 pages of creative activities - the perfect antidote to either boredom at home or keeping them entertained when they're on the move.
Go AFK today. You. Must. Create.
Free Home Delivery
on all orders
Pick up orders
from local bookshops