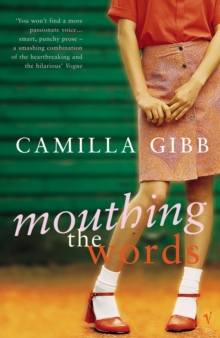 Mouthing The Words
Paperback
Description
Thelma is six years old. Life at home is unsettling and disturbing; her father's games are not enjoyable and her mother dotes on Willy, the favoured child.
When her parents move to Canada, Thelma smuggles her imaginary friends with her in her suitcase.
By turns harrowing and wonderfully funny, Mouthing the Words tells Thelma's story of sexual abuse, anorexia, borderline multiple personality disorder and her return to England.
Reminiscent of Jeanette Winterson and Sylvia Plath, Mouthing the Words is a remarkable and inspiring fiction debut.
Information
Format: Paperback
Pages: 256 pages
Publisher: Vintage Publishing
Publication Date: 01/02/2002
ISBN: 9780099286585
Free Home Delivery
on all orders
Pick up orders
from local bookshops
Reviews
Showing 1 - 2 of 2 reviews.
Review by bibliobibuli
16/06/2015
Mouthing the Words is a powerfully engaging and highly readable novel about growing up in a dysfuctional family.Thelma is five when the story opens. The family live in a village called Little Slaughter where they are ostracized as outsiders by the neighbours. Thelma's mother, Corinna, a former model, wants little to do with her daughter and relegates her "to the realm of the rather inconvenient", preferring to shower affection on her younger brother, the result of an affair with an Edinburgh solicitor.Thelma is sexually abused by her alcholic father, Douglas, and made to play games of naughty secretaries and bosses. Unable to communicate this terrible secret to anyone outside the family, Thelma invents three invisible friends each representing an aspect of herself, who help her to cope. She longs, in vain, for another adult to adopt her.The family move to Canada where things worsen, her parents eventually separating. There is a friendship with the hippyish family next door, and an all too brief period of happiness when her mother takes a Punjabi student as a lover, the first adult who really reaches out to the love-starved Thelma.Thelma is institutionalised with anorexia - starvation is the only way she can physically prevent herself from becoming an adult woman, but recovers to win a scholarship to Oxford to study law. Although she proves to be a brilliant student, she rapidly descends into serious mental illness and self-mutilation.Gibb is able to portray a descent into madness better than almost any other author I've come across (with perhaps the exception of Bessie Head in Maru) and her depiction of the psychological effects of abuse is extremely convincing. And we're right there to cheer on Thelma's slow journey to reclaim herself, and to be able to own her own words.Sounds like a misery read? Far from it. The material is dark, but Gibbs has a lightness of touch and a humour (some parts are extremely funny!) that pulls the book back from being heartbreakingly sad.
Review by Severn
16/06/2015
Simply, 'Mouthing The Words' resonates. I would wager that even for those readers who hadn't shared similar experiences as the protagonist, Thelma, Gibb's writing is such that Thelma's journey is accessible and understandable - even through the madness.The focus is removed from the events of the abuse itself, and instead the reader watches Thelma develope her own defence mechanisms - imaginary friends/split personalities, numbness and dissociation to name a few (all psychologically normative responses to severe trauma). Watching the development of these defences as they emerge through her childhood is fascinating, disturbing and extremely poignant.In Thelma's early adulthood these mechanisms collapse into a harrowing period of full-fledged mental illness and Gibb's skill really comes through. People who suffer from such illnesses find it hard to recognise themselves as ill, and, true to this, Thelma moves gracefully through a sanely-crazy reality. One gets the feeling that she is thinking clearer than ever before throughout this time. I imagine that is a hard perspective to write from, and Gibb has mastered it.Unlike too many novels that deal with tragedy or trauma through melancholic pathos, 'Mouthing The Words' is written with a literary integrity that entitles Thelma to transcend a one-sided, crippled object of pity. Instead she is alternately funny, naive, cold, loving and always utterly screwed.As the title suggests much of the imagery centres around Thelma and silence - external and internal silences, frustrated communication, mouths as sexual weapons, words as tools. This imagery forms the skeleton of the text and in my opinion subtly pulls the novel together.Whether Thelma's experiences engender either sympathy or empathy I can't recommend this novel enough.