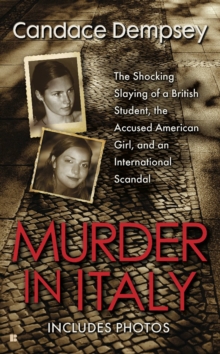 Murder in Italy : The Shocking Slaying of a British Student, the Accused American Girl, and an International Scandal
Paperback
Information
Format: Paperback
Pages: 332 pages, black & white illustrations
Publisher: Penguin Putnam Inc
Publication Date: 07/07/2010
Category: True crime
ISBN: 9780425230831
Free Home Delivery
on all orders
Pick up orders
from local bookshops
Reviews
Showing 1 - 3 of 3 reviews.
Review by VanessaBarrow
16/06/2015
A powerful and moving true story of a senseless crime and the tragic aftermath. The brutal stabbing of British student Meredith Kercher, quickly followed by the arrest and conviction of her American roommate Amanda Knox--who may or may or not be a killer. Candace Dempsey takes the reader on a journey that is both fascinating and heartbreaking as she makes a clear and concise common-sense examination of the truth behind the sensationalist headlines. Whether you have followed the tragedy from the beginning or are hearing the story for the first time, this book will help you...
Review by Marlene-NL
16/06/2015
OMG. What a terrible book. I am very disappointed. First of all I did not know anything about this case when i started reading. At first I liked the book, the writing style was fine but then i started to notice the author was constanty telling us that one girl in the book was innocent. If there is something I hate it is a writer who is too biased. Of course many true crime writers have feelings when they write a book, but this author, constantly she was finding excuses for Amanda Knox, so much so that it annoyed me so much i could not keep reading. So now I still do not know what happened. grrrrr
Review by ChristineEllei
27/08/2015
Amanda Knox left Washington for the small Umbrian university town of Perugia to complete a year of studying abroad and to brush up on her Italian language skills. Many students take advantage of opportunities to study abroad, but for Amanda her year abroad turned into a legal nightmare. Coming home one morning she discovers the body of her murdered roommate, Meredith Kercher. After months of half-hearted investigation, language barriers and poor forensics she finds herself and her boyfriend, Raffaele Sollecito sentenced to prison for 26 and 25 years, respectively.<br/><br/>This story has captured headlines around the world and also captured the imagination of a friend of mine. In an attempt to be able to carry on an intelligent conversation I picked up this book to familiarize myself with what happened. Admittedly, if you enter "Amanda Knox Trial" as a Google search this information is readily available, but I found that Ms. Dempsey put it together in an engaging, chronological manner, without offering any personal suppositions. <br/>