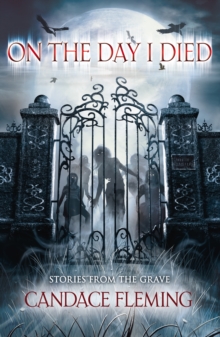 On the Day I Died
Paperback
Description
You over there - come a little closer. Closer still; there's no need to be shy. We have tales of terrors beyond your wildest nightmares; stories of monsters, madness, the dark and the dangerous.
The dead have voices, and we need to be heard. Settle down, sit tight. We're going to be here all night.
Information
Format: Paperback
Pages: 208 pages
Publisher: Random House Children's Publishers UK
Publication Date: 01/09/2012
Category: Fantasy
ISBN: 9780552566346
Other Formats
Paperback from £6.09
EPUB from £3.99
eAudiobook MP3 from £7.20
Free Home Delivery
on all orders
Pick up orders
from local bookshops
Reviews
Showing 1 - 4 of 4 reviews.
Review by elliepotten
16/06/2015
This was the perfect book to read on the run-up to Hallowe'en night. Not that I celebrate Hallowe'en, but I like to use October to read a few spooky novels all the same! In the finest <i>Goosebumps</i> and <i>Point Horror</i> tradition, this is a great book to scare the kids whilst also sending a little nostalgic chill down the spine of any adults who might find themselves perusing its pages...<i>On The Day I Died</i> is really a book of short stories, set in a wider context to tie them neatly together so it still makes a coherent novel if you prefer to devour it whole. It begins with young Mike, making his way home late one night, being swept up in a bizarre set of circumstances which culminate in him sitting in a Chicago graveyard listening to a group of teenage ghosts telling their death stories. Each spirit gets their turn to talk about how they lived and died, their tales spanning from the mid-nineteenth century right through to 2012, and their deaths mostly occurring by supernatural (and ghoulishly unpleasant) means.What I found really interesting about this book is how firmly it is rooted in genuine Chicago history and culture, and within the horror genre as a whole. At the back of the book Fleming details her inspiration for each character's tale - old newspaper headlines, the criminal underworld, creepy old buildings, local mythology - and also mentions the old television series and classic horror stories that lent flavour to her stories. As a young teenager this section would have had me running to the library to see what kind of supernatural folklore exists around my own county!I think Fleming has really delivered a little something for everyone here. Sure, the segues between stories are a tad awkward, but Mike's presence pulls everything together, and the stories themselves are varied enough to cater to every taste. There are aliens and evil artefacts, moments of madness and spooky old buildings, walking corpses and all-consuming flames - all the things that give a reader of <i>any</i> age that sickly but strangely delicious urge to shudder. The age guidance on the book suggests that it is suitable for kids of 11+, and I'd have to agree; there are some very bloody, macabre and frightening moments, more akin to the slightly more YA-oriented <i>Point Horror</i> series than <i>Goosebumps</i>. My advice? Grab yourself a bowl of popcorn and a cushion, and read on... if you dare!
Review by asomers
16/06/2015
This book is a collection of short ghost stories. The author's notes at the back of the book are very interesting. She based these stories on actual facts surrounding people and places in Chicago.
Review by TheMadHatters
16/06/2015
Written almost like a collection of short stories....Mike is driving fast trying to get home before his curfew when he picks up a girl who brings him to the cemetery. There, Mike encounters a bunch of ghosts...all teenagers who share the stories of how they died so young to Mike.
Review by GirlsonFire
16/06/2015
Liked: short, easily-digestible stories from each character's perspective. All stories are set against Chicago history (Al Capone, the World's Fair, etc...) and give a real sense of Chicago through the years.Disliked: Some stories were paranormal, others were just bad luck. For the most part I couldn't really get a handle on what they were going for. Some of the ties to Chicago history made you groan a little bit as they were trying to shoehorn it in there instead of letting a story just exist.Readalikes: Scary Stories to Tell in the Dark, or other horror anthologies.