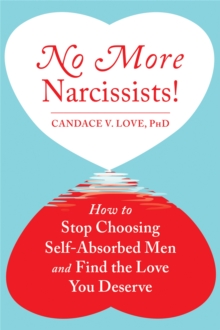 No More Narcissists! : How to Stop Choosing Self-Absorbed Men and Find the Love You Deserve
Paperback / softback
Description
Do you keep finding yourself in relationships with narcissistic men?
Is your boyfriend or husband solely focused on fulfilling their own needs and unable to see things from your perspective?
If you're tired of dealing with a self absorbed partner and are ready to be treated with kindness, respect, and sensitivity, this book is for you. In Women Who Love Narcissists, psychologist Candace Love provides a road map for women to finally get the love they deserve.
Using skills based in cognitive behavioral and schema therapy, you'll gain an understanding of why you're attracted to narcissistic men, how you can avoid being drawn in by a narcissist's initial charm and magnetism, and how to heal so you can finally move on to healthy relationships. You'll find out how the basic principles of schema theory-core beliefs about ourselves and our environment that we acquire in childhood and adolescence-can play an important role in why you're attracted to narcissists and seek them out.
Also included are targeted exercises and techniques that will encourage you to examine your past relationships and take meaningful steps to promote self-care and healing. Isn't it time you broke the cycle of hurt, frustration, and pain that comes with loving a narcissist?
Change can be scary- but the end results are worth it!
This book will show you how to kick narcissists to the curb, love yourself unconditionally, and go on to create fabulous and healthy relationships.
Information
Format:Paperback / softback
Pages:224 pages
Publisher:New Harbinger Publications
Publication Date:28/07/2016
Category:
ISBN:9781626253674