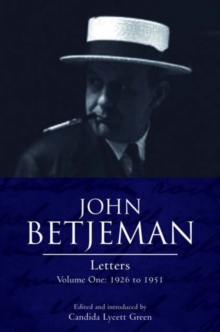 John Betjeman Letters : 1926-1951 v. I
Paperback
Description
John Betjeman (1906-1984) was not simply one of the best-loved contemporary English poets but was also one of the best-loved Englishmen of the twentieth century.
He was never, nor strove to be, the darling of intellectuals or academics, but by pure chance became the darling of the ordinary man in the street.
Volume I of Betjeman's selected letters covers his life from university days through to his period on the staff of The Architectural Review and as editor of the Shell Guides in the thirties; his time as Press Attache in Dublin during the War; and his activities as a broadcaster on radio and television and as a public speaker which established him as an authority and enthusiast in a wide range of fields - literary, artistic, architectural.
Volume II covers his life from the age of forty-six when his popularity as poet and broadcaster and as campaigner against the destruction of fine buildings was reaching its height.
His correspondents ranged from people in the world of literature and the arts - T.
S. Eliot, Cyril Connolly, Evelyn Waugh, Auberon Waugh, John Piper, Philip Larkin and Kingsley Amis, to family and cherished friends - Alan Pryce-Jones, Myfanwy Piper, Nancy Mitford, Osbert Lancaster and later Mary Wilson.
He wrote eloquently and passionately on poetry, religion, architecture and town planning and letters to his family recorded adventures in America - gloomy, and Australia - jubilant.
His letters are at once serious, comforting, sparkling with humour and sometimes as tumultuous as life itself.
In these two volumes, Candida Lycett Green has created a loving portrait of her father, and her notes and introductions to the works serve to amplify her own feelings for a kindly, gentle and universally admired man.
This publication coincides with a series of events nationwide to celebrate the centenary of Betjeman's birth on 28 August this year.
There is huge media buzz for the centenary. John Murray is reissuing Betjeman's poetry.
Information
Format: Paperback
Pages: 642 pages, Illustrations, ports.
Publisher: Methuen Publishing Ltd
Publication Date: 24/08/2006
Category: Diaries, letters & journals
ISBN: 9780413775955
Free Home Delivery
on all orders
Pick up orders
from local bookshops