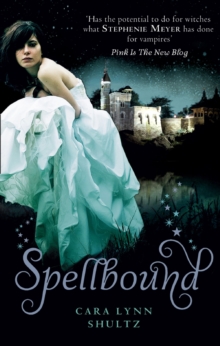 Description
What's a girl to do when meeting The One means she's cursed to die a horrible death?
Life hasn't been easy on sixteen-year-old Emma Conner, so a new start in New York may be just the change she needs.
But at the posh Upper East Side prep school she's forced to attend, friendly faces are few and far between.Except for one that she's irresistibly drawn to - Brendan Salinger, the hottest guy she's ever seen and the richest boy in school, who might just be her very own white knight.
But ever since Emma laid eyes on Brendan, strange things have been happening.
Streetlamps go dark wherever she walks and Emma's been having terrifying, intoxicating dreams.
Visions of herself in past lives - visions that warn her to stay away from Brendan.
OR ELSE.
Information
Format: Paperback
Pages: 368 pages
Publisher: HarperCollins Publishers
Publication Date: 01/09/2012
ISBN: 9781848451520
Free Home Delivery
on all orders
Pick up orders
from local bookshops
Reviews
Showing 1 - 2 of 2 reviews.
Review by wyvernfriend
16/06/2015
There were times when this didn't quite work but overall this was a good read. Emma Conner has had a hard life, her mother in the last year leaving her with her drunk of a stepfather who almost killed her in a car crash. Now she's living with her aunt in New York and going to an exclusive Upper East Side prep school, it's a chance at a new start.She's drawn to Brendan Salinger, a rich boy who is very handsome and with whom she feels a connection. She's having strange dreams and lights are going off when she walks by, there's something strange going on but can she work out what's happening and stay alive?It was fairly typical of it's type but well done for all that, it lost some points over page 270 where he, in one page, gave her a Claddagh/Clauddagh/Claddaugh ring. It's CLADDAGH, it's a place in Galway, there is no excuse for getting it right first time and then goofing within 4 paragraphs. Just Google It.Having said that, this was the only break in the suspension of disbelief for me so I'm happy enough overall with the story.
Review by AdonisGuilfoyle
16/06/2015
I have no idea what the attraction with these teen supernatural romances might be - possibly just this popular genre wasn't around when I was actually the right age to read them. Or perhaps the pretty covers are too tempting to resist! Either way, I couldn't stop myself from whipping Cara Lynn Shultz's fairy tale romance off the YA shelf to pass a couple of hours.Overall, I like the tone of the novel - Emma Connor (and how annoying that the blurb on the back cover spells her last name wrong!) is a likeable and sympathetic narrator, the outsider looking in at a school full of pretty and privileged rich kids. But I'm not entirely sure about the message Schultz is promoting to her teen readership. Emma is a victim, bereaved and abused, whose life is suddenly patched together by The Boyfriend - so, find yourself a rich alpha male, whatever your age, and 'true love' makes everything OK? The sickly historical/supernatural backstory didn't win any points with me either, full of twee symbolism and dreadful poetry. But I have no doubt that young girls would be lapping this stuff up, and setting a new generation of women back to the 1950s.A lot of clichés, stitched together with pop references and a winning formula - not bad, but there are better YA novels out there.
Also in the A Spellbound Story series