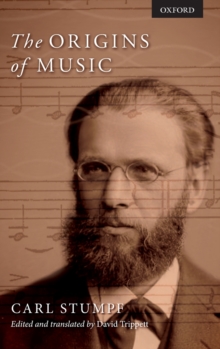 The Origins of Music
Hardback
Description
The Origins of Music was first published in German in 1911.
In this text Carl Stumpf set out a path-breaking hypothesis on the earliest musical sounds in human culture.
Alongside his research in such diverse fields as classical philosophy, acoustics, and mathematics, Stumpf became one of the most influential psychologists of the late 19th century.
He was the founding father of Gestalt psychology, and collaborated with William James, Edmund Husserl, and WolfgangKoehler. This book was the culmination of more than 25 years of empirical and theoretical research in the field of music.
In the first part, Stumpf discusses the origin and forms of musical activities as well as various existing theories on the origin of music, including those of Darwin, Rousseau, Herder, and Spencer.
In the second part of the book, he summarizes his works on the historical development of instruments and music, and studies a putatively global range of music from non-European cultures todemonstrate the psychological principles of tonal organization, as well as providing a range of cross-cultural musical transcriptions and analyses.
This became a foundation document for comparative musicology, the elder sibling to modern Ethnomusicology, and the book provides access to the originalrecordings Stumpf used in this process. The Origins of Music is available for the first time in the English language as a result of a collaboration between the European Society for the Cognitive Sciences of Music (ESCOM) and Oxford University Press.
It is a fascinating volume for all those with an interest in the history of psychology and music.
It appears here in tandem with Self-Portrait,Stumpf's autobiography of 1924, in which he outlines the rich life experiences behind his research career alongside his own explanation of hisscientific and cultural legacy.
Information
Format: Hardback
Pages: 288 pages
Publisher: Oxford University Press
Publication Date: 05/07/2012
Category: Theory of music & musicology
ISBN: 9780199695737
Free Home Delivery
on all orders
Pick up orders
from local bookshops