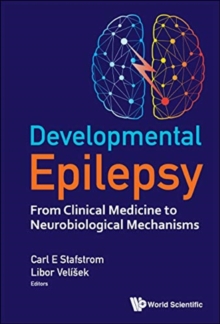 Developmental Epilepsy: From Clinical Medicine To Neurobiological Mechanisms
Hardback
Description
This is a collection of chapters from renowned authors focused on the contemporary issues in developmental epilepsy, from both clinical and basic science perspectives.
Developmental epilepsy (or epilepsy syndromes), while receiving much more attention than 20 years ago, is still not well understood.
This lag in research is reflected in the challenges of treating developmental epilepsy.
The book discusses these challenges in the clinic and brings them back to the laboratory bench (and in some cases back to the bedside).
This book fills a gap in the literature on developing epilepsy by bridging current clinical knowledge with basic and translational research in the developing brain relevant for developmental epilepsy.The book is introduced by a chapter on brain development to provide a background for understanding when and how seizures and epilepsy can emerge.
Recent clinical research indicates strong relationship between childhood epilepsy and developmental cognitive impairment. This connection can be studied in experimental animals and can uncover developmental mechanisms common to both conditions.
Targeting those mechanisms might reveal disease-modifying treatments.
Febrile seizures are very common in the pediatric population and their impact on further epilepsy development is explored.
The link between immunity, inflammation and epileptogenesis in the developing brain is explored.
Many developmental epilepsies arise from brain malformations or neuronal migration deficits; some juvenile epilepsies have a clear genetic basis while the etiology of others is less certain.
Recently, the involvement of the mTOR pathway in certain childhood epilepsy syndromes was recognized, prompting the repurposing of drugs used in cancer treatment for therapy of these specific epilepsy syndromes.
Steroid hormones have significant hormonal effects on neurotransmitter receptors and function, and therefore have an impact on childhood epilepsy; sex steroids may have long term organizational effects on brain structure and epilepsy development.
Stress, even early in development, may affect the developing brain and lead to behavioral changes as well as increased susceptibility to seizures.
Free Home Delivery
on all orders
Pick up orders
from local bookshops