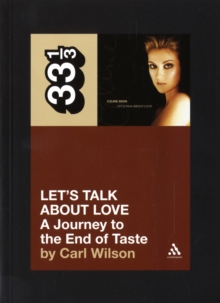 Celine Dion Let's Talk About Love
Paperback
Part of the 33 1/3 series
Description
This book is a riveting investigation of what it means to love music and what it means to hate music, both of good and bad taste.Non-fans regard Celine Dion as ersatz and plastic, yet to those who love her, no one could be more real, with her impoverished childhood, her manager-husband's struggle with cancer, her knack for howling out raw emotion.
There's nothing cool about Celine Dion, and nothing clever.
That's part of her appeal as an object of love or hatred - with most critics and committed music fans taking pleasure (or at least geeky solace) in their lofty contempt.
This book documents Carl Wilson's brave and unprecedented year-long quest to find his inner Celine Dion fan, and explores how we define ourselves in the light of what we call good and bad, what we love and what we hate.
Information
Format: Paperback
Pages: 144 pages
Publisher: Bloomsbury Publishing PLC
Publication Date: 01/11/2007
Category: Rock & Pop music
ISBN: 9780826427885
Other Formats
PDF from £10.44
EPUB from £10.44
Free Home Delivery
on all orders
Pick up orders
from local bookshops
Reviews
Showing 1 - 5 of 7 reviews.
Previous | Next
Review by drenglish
16/06/2015
When he takes moments of Celine-Dion-induced disgust--the disgust Celine Dion can be expected to produce in the sort of reader likely to pick up this book--and reads through them, to the cultural projects and locations in which Dion's music has meaning, Wilson is entirely engaging and informative. (The discussion of the place of white-trash music in Quebecois culture alone is worth the price of admission.) But when, midway through the book, he veers off into a potted account of the history of the critique of taste, Wilson becomes stale, haphazard and repetitive. Should we really be surprised, or dismayed, at the notion that taste has a great deal to do with social affiliation? Wilson seems to think so. Attempting to find some way that his own taste can be educated by Dion's music--which, in an unfortunately characteristic phrase, Wilson says "stinks of democracy"--he ends up merely inverting the rockist belief in authenticity by attributing it (if not wholeheartedly) to Dion-style schmaltz. Where his discussion needs to broaden itself out, to consider not just the social use of Dion's music but of the taste-divisions her music (just as much as indie rock) helps create and sustain (a point Wilson never acknowledges), Wilson falters and turns inward. A worthwhile and thought-provoking read, but ultimately unsatisfying.
Review by booksmitten
16/06/2015
This is a book about aesthetic theory. It's about the globalization of culture. It's about why we love what we love and hate what we hate. It's about the history of schmaltz as a musical genre. It's about the art of the ironic punkrock cover song. It's about the Quebecois status as an outsider in Canadian society. It's about immigrant influence on styles of American music. AND it's a book about Celine Dion, and it's fucking brilliant. Read it – feel no shame.
Review by LeisureArts
16/06/2015
This is probably the best work of cultural criticism I've ever read!
Review by librarianbryan
16/06/2015
This was on its way to becoming the best of these I have ever read, but the second half gets bogged down in undergraduate philosophy rehash. Though Wilson snapshots a nice gleam of aesthetic theory, he himself comes to no conclusions about why Celine is popular. I was also appalled that he throws in some sort of confessional chapter about being too neurotic to interview Celine fans though he had traveled to Las Vegas specifically for the purpose of doing so. Oh fuck you, I stole your lunch money you whiny twerp.<br/><br/>An addendum:<br/>So the first half, that I liked so much, puts Celine in context of Quebecois culture in relation to Canadian, American, and French culture. The author himself is Quebecois and from a cultural studies perspective these chapters are enlightening. <br/><br/>In the second half, he summarizes some aesthetic theory and quotes a few studies but never connects the dots. In short, it is all about economic class but he is afraid to say so. Or he is afraid to say it is <i>not</i> about class and explain why.
Review by maritimer
16/06/2015
This is a gem of a book. Nominally about Celine Dion, it is really more about managing one's inner troll and emancipating the "better angels of our nature". Taste, according to Wilson, is as much about who we wish to be associated with and whom we wish to distance ourselves from, as it is about what we actually like. The critique of Dion's <i>Let's Talk About Love</i> is only one chapter, and Wilson's better angels are very much evident in this portion of the book. Utimately he chooses the wonderful <i>Book of Love</i> lyrics as a fitting coda wrapping up his discussion of her album: "It is long and boring, and written very long ago. It's full of flowers and heart-shaped boxes, and things we're all too young to know."